Lips dont create any downforce in beam so they should be fine.
Video from ALR #5 is here!
2 hours until submission deadline!
Remember to vote on the best-looking cars! Link on the bottom.
The cars and track are all in the dropbox, which is linked in the OP: [ALR] Automation Live Racing: #11 Classic Sports Track Weekend (Survey Time!)
@B4nditOo in the Hussar Big Boy GT460R: 1342kg, 4.6L V8 making 439hp.Glued aluminum chassis construction and pushrod rear suspension makes this a budget supercar in the shape of a pickup truck. 6 speed DCT.
@ImKaeR in the Husar (not to be confused with B4ndit's brand, Hussar) Kieretta. Despite weighing 1333kg, this corvette-like car sells best to Light Sport buyers. 5.3L V8 makes 519 horsepower, with a manual transmission. Interior is engineered for weight, with a +8 quality Premium/Basic CD setup, and Basic safety.
@bilobilo in the Marshall Cerberus. 1534 kg, 6L V8 making 488hp. 6MT. 4 seats.
@LoSboccacc in the Marameo Fulmine. 1608kg, 6.4L I6 (booo) making 566hp (whoooo!) on titanium internals. 4 seats, 6DCT and traction control.
@stigx24536 in the Chupacabra. 1155kg makes this the lightest car here, and it has a 4.6L I6 making 430hp with SOHC4 and an AlSi block, as well as titanium internals. This might be the only car which is light enough that the power is primarily limited by displacement rather than gas mileage. 5DCT, 2 seats and no traction aids at all. It's got active suspension bits for comfort. It also has an insane 7.3 degrees roll angle and very soft suspension.
@Deltaz in the 'Murican Steel. This (custom?) truck is set up for racing with intakes in the headlights and no blinkers. It also has an American flag and Hetvesian license plates, which makes my head hurt. 1437kg, 5.7L V8 making 451hp. 5DCT, no traction aids, and a flashing red wheelspin warning in the designer (Whooo!

)
@pcmoreno in the Winthorpe Visage, which brings back the hood window from the Winthorpe Lemon, although looking a bit less out of place this time. It's also got door windows, so everybody knows you're getting road head. 1857kg (BIG METAL) making 538hp from a 7.4L V8 (Yeahhh!

) Somehow it's as heavy as it is despite using partial aluminum body panels and an AHS steel monocoque chassis. It does contain 5 seats, but only a standard interior and basic safety (plus some active suspension bits).
@Ken_Shiro in the Centaur. 1566kg, 534hp from a 6.2L flatplane V8. That's after losing 6hp from reducing the size of the exhaust a tick, the -4 quality exhaust was a little too loud. 6MT, 2 seats with a Luxury interior.
@jameseydude in the Trim 32. As the name might imply, this one was a bit rushed for the deadline. 1833kg, and has a 5.7L flatplane V8 making 427hp. 6 speed DCT, luxury interior and fully active suspension. Standard Safety puts it well above minimum safety requirements.
Race is over, congrats to @Sigg610 for winning! Stay tuned for an announcement of the next event!
Automation Live Racing #7: Folk Racing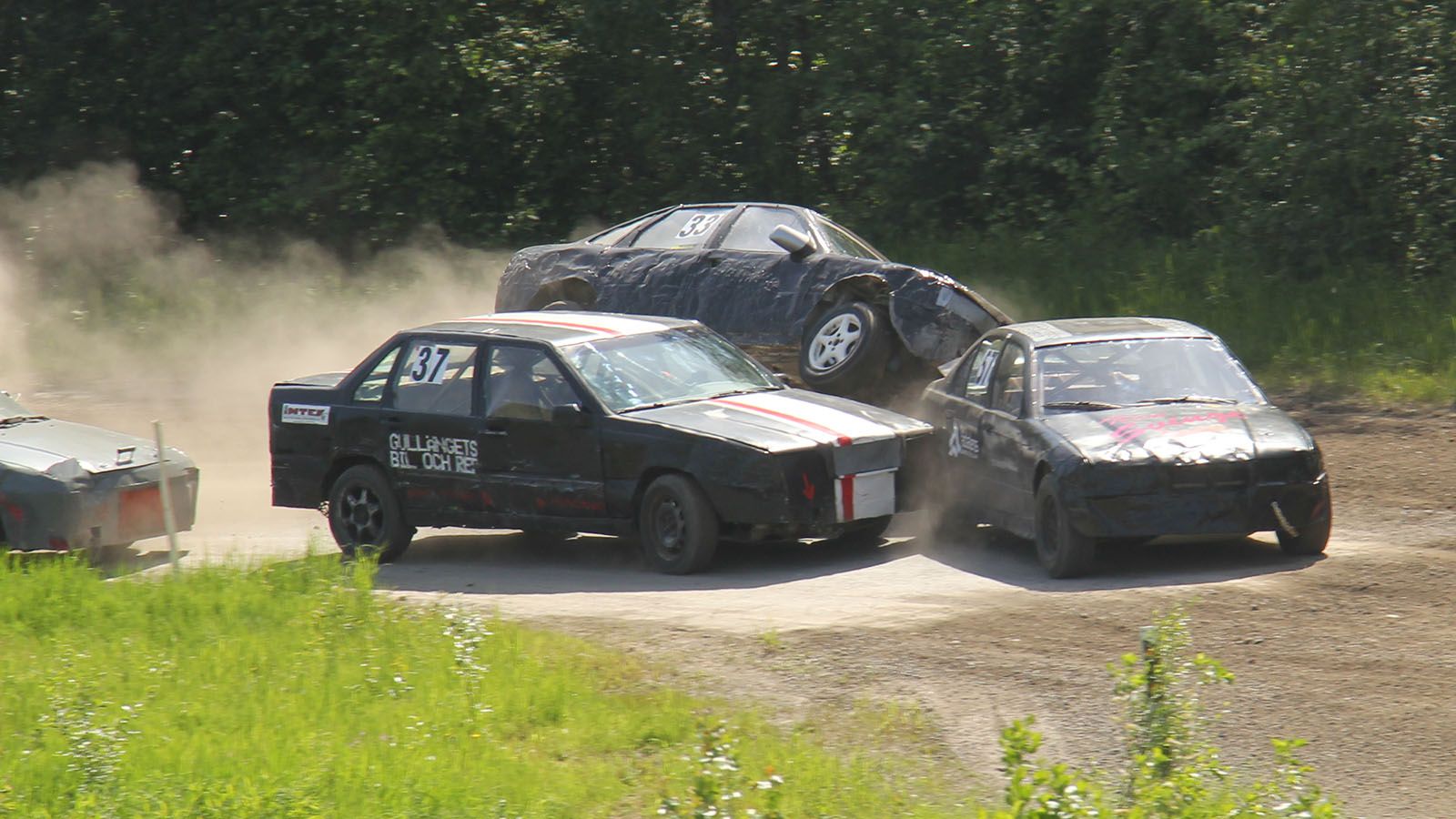 Welcome to the the place for live multiplayer racing in BeamNG! This will be a competition to determine the best combination of car and driver.

To play, you will need BeamNG, The KissMP Multiplayer Mod as well as Automation.
Details on how to install mods, and links to our discord and dropbox, are in the
ORIGINAL POST
. Note that we are using KissMP again, and
you will have to re-download it with the latest update
.
EVENT RULES
Theme
It is some time in the 2000's, and you and your friends have decided to have a few beers and race some old cars. In this case, that means finding whatever you can get for less than 1600 euros, common family cars that were cheap new and are at least 10 years old, now rapidly approaching worthlessness. The site is RSWatt's Rallycross Track, a short circuit with mixed surfaces and and a joker:a junction into a slower section of the course which all drivers are required use once during the race. While it's not a demolition derby, folk racing definitely involves banging together some old cars for a good laugh, and that's just what you'll do.
The Race
Track: The race is on RSWats Rallycross, and each heat will be 6 laps long. During each heat, drivers must complete the JOKER once, or be disqualified. This is a mixed-surface track, with both dirt and pavement.
Contact: No deliberately pitting, brake checking, or ramming drivers off the road. However, you will be rubbing often on this course and that is allowed.
Heats: Maximum 6 cars per heat. Number of heats depends on number of participants. Most drivers should race in two heats; one qualifying heat and one heat to determine final position.
Appearance Poll: Qualifying will be based on appearance poll! Top qualifiers will place into new heats first- EG the 2nd best voted car will be 1st on the grid in Heat 2, then 3rd would be either 1st in Heat 3 or 2nd in Heat 1 depending on the number of heats.
Schedule: Race is tentatively scheduled for 1:00PM US-CST on Friday, April 9th. Cars must be submitted by noon the prior Thursday!
Submissions
Teams: One driver per team, and one or more car designers. You may be a one-person team. No driver or designer may participate in multiple teams. When submitting your car, include your Driver's name and control type (EG Steering Wheel, Gamepad, Keyboard).
Naming: Name your Model and Engine Family "ALR7-Username" and submit the .car file to me on the forums (not discord).
Schedule: To be included in the poll, and to give time for pre-downloads, cars must be submitted by Noon US-CST on Thursday, April 8th. The race will be in the afternoon the following Friday!
Pre-Download: When the poll goes up, all the car files will be in the dropbox, linked in the OP. It is strongly recommended that you download them ahead of time instead of when trying to join the server. See the OP link for mod installation instructions in order to make them work with BeamMP or KissMP.
CAR RULES
Inspiration








For visual design, cars may be stock, or they may have livery and be stripped of features like bumpers and lights.
Car Requirements
Year: Trim year 1990 or Earlier
Total Estimated Cost: $19,000 or less
Service cost: $1200 or less
Maximum Engineering Time: 95
Maximum Production Units: 95
MInimum Market Score: MANUAL TRANSMISSION: In Hetvesia only: 110 in Family or Family Utility
MInimum Market Score: AUTO TRANSMISSION: In Hetvesia only: 150 in Family or Family Utility
2WD ONLY (front or rear)
Seats: Minimum 2 Full front seats
Minimum Quality: -4 on any part
NO "Significantly Reduces Production Efficiency" Items: EG Aluminum panels/chassis, Space Frame, Hand-Built Interior. No, you can't get aluminum presses.
NO Semi-Space Frame
NO Manual Locker/Auto Locker
Minimum Safety: 40
Minimum Gas Mileage: 20MPG (US)
Tires: Max width 225mm, Staggered tires may not be wider. Max 16 inch wheel size. No Semi-Slick.
NO Wing Fixtures
Engine Requirements
Year: Family and Variant 1990 or Earlier
Maximum Engineering TIme: 90
Maximum PU: 30
Max Displacement: 1.5cc/kg
NO Turbo
NO Race Parts
Fuel: Regular or Premium Unleaded
Minimum Quality: -4 on any part
Maximum Loudness: 50
Maximum Stress: 0% in any category. That's NO stress!
Tips
-Take advantage of ABS!
-VVT is allowed, and it's a really cheap way to get more gas mileage!
-Hard Long-Life tires get the best grip on dirt, while Medium get better grip on pavement. The track is mixed-surface. Sport tires are technically allowed but almost certainly not worth it.
-The track is not totally even, so be careful of making your suspension too hard.
-It is NOT RECOMMENDED to model the interior of cars for BeamNG racing as this tends to add weight in beam and makes the model more complicated.
For this round, you seem to have forgotten about fuel type requirements - I would suggest 95 RON premium unleaded as the absolute maximum.
Edit: It seems like you were aware of fuel type requirements after all.
Nah, it's already in there- regular or premium unleaded.
What about lip fixtures? Are there any limits on how many of those a car can have? And can we use partial aluminum as a chassis material, even though full aluminum panels are not permitted?
On top of that, the minimum market score requirements (for Hetvesia) are a bit over-optimistic - do they deserve to be lowered? Or should the requirements be for the Family Utility Budget and Family Budget markets instead?
Lip fixtures have no aero effect in BeamNG, so use as many as you want. It's the same answer every time, so stop asking.

It's generally not recommended to use them because lip/spoiler fixtures can reduce your gas mileage and add engineering time, while providing no downforce in beam. If you have more than 23 lip fixtures on your car I will disqualify it for being a shitpost.
Yup.
I built a car on these rules with 190 Family Utility market score (manual transmission). It's easy to do this… but the hard part will be making it fast. Keep in mind it might be almost impossible to make a sub-compact which qualifies, they prefer mid to large vehicles.
any track limits? Not that it really matters since the race will be chaos and mayhem.
As all mods affect the weight, in BNG, what are the minimum requirements?
aren't 4 laps a bit short?..That means the whole race will be over in just a bit longer than one lap of the previous challenge.
I have 6 laps written in the description.
Regarding track limits, there's not a lot of cutting that's even possible. Most of the track is hemmed in close with barriers. Just don't use the service roads, of course.

Minimum requirements would be some lights, bumpers (if the body needs them), door handles, exhaust. Most 2D fixtures which cannot fall off, I believe do not add weight. Of course, looking good qualifies your starting position.
does family utility budget count as family utility?
Survey Time!
@ImKaeR in the Plastic Fantastic. This Family Utility car manages to come in at an amazing 815kg with partial aluminum panels and the… unconventional combination of an aluminum engine block and cast iron head. It's an SOHC 4-cylinder making 112 horsepower at 7200 RPM (with a billet steel crank! which is odd but doesn't seem to provide a ton of benefit).
@B4nditOo in the Hussar V70 T5. This car had a 2012 engine (oops!) but B4ndit plans to submit a version which qualifies before race time.
@Deltaz in the suspiciously new-looking 1989 Foresuta GT. 1002kg, 114hp DOHC I4 with a cat. Includes an LSD.
@Sealboi in the Genbrot Hotster. 1066kg of basic steel, but double wishbone suspension all around. Engine makes a whopping 140hp at 7500RPM (it's pretty oversquare) with 100 cams, somehow still meeting gas and market requirements. It costs only 17500 too!
@Sigg610 in the Mazda 787C. Weighing 1051kg and making 135hp with a SOHC4-I4, this car also qualifies as "Light Sport Budget". It's got a geared LSD, 2+3 seating, and medium tire compound.
@nev in the Skrothog: This car weighs 975kg with plain steel and has another wild engine tune, a SOHC4-I4 making 150hp with the help of forged parts, ludicrous 11:1 compression and steep cams, and multiple throttle bodies. But… this one does a bit of a naughty! It meets the market scores by being a 1981 trim with a 1990 engine, basically meaning this car is modified and wouldn't have been sold in this configuration. It's definitely not in the spirit of the rules, which is driving cars at stock weight and power. Normally, I've always allowed rules loopholes, but I think this one is bad enough that I'm going to add 50kg ballast (positive safety quality) as a penalty. Without this particular exploit, the car would have to either make about 40 less horsepower or spend far more weight and budget on comfort and safety.
@stigx24536 in The Gauntlet: 918kg, 134hp, LSD and 5 full seats. Right on the line for budget and mileage.
@TCup in the Knarr W.22: This car is dirt simple with four drum brakes, no power steering or ABS, although it does spring for an LSD. 960kg, 117hp rear-mounted boxer engine. Billet steel crank provides a crucial 0.1mpg to qualify.
@bilobilo in the Kinden Falco: 1049kg, 110hp (with a 4-barrel carb). Gets 22.5mpg- in this case, the car's power was limited by the need for market score rather than MPG directly. 5 seat premium interior, and a solid rear axle. This is probably one of the few cars here not reach for all the high-tech options.
@pcmoreno in the Winthorpe Grackle 1.4. This is one of the few cars to go for Family rather than Family Utility, and it's a 1980 model to make that easier (but, without a time-traveling 1990 engine). 932kg, 112hp. Open diff because you can't get LSD's in 1980. Creative use of the budget allows for +3 quality mag wheels.
As usual, the dropbox files are in the OP! Remember to upgrade your KissMP to the new version!
A side effect of the rules I'm afraid! Family Utility is easier to shoot for. I might have toned down the requirement a little for Family to balance it out, but I also didn't want it to favor lighter cars too much (and we still got most of the contestants under 1000kg when my test vehicles were more like 1150!)