Compact Pickup Injected with Racing Drugs
1985 Magnus Sarasota Basedworks Limited Edition
Inspired by the AutoBeam Championship S8R5 entry by the same team, this tiny shitbox has been given many modifications inspired by it such as an off-road body kit, lifted hydropneumatic suspension and to power it, an actual 2.9L V8
Hopefully it doesn't suffer the fate of the last V6 car…

Poll time!
Visual poll results determine qualifying position! Remember you can look at all the pictures from different angles above when deciding which cars to vote for.
@pcmoreno in the Winthorpe Picker:
1319kg, 2.6LI5 making 201hp. Offroad tires. Premium interior in this one. Manual locker is used here, as in most of the cars (the markets love it). Inside the bed is a shotgun which is A) weirdly expensive looking with a carbon fiber barrel support and B) illegal to use during the race.
https://d3hrnetf5izp16.cloudfront.net/optimized/4X/3/b/e/3be6670aa98f987428be89b0ba5e1dea1c84af23_1_690x388.jpg
@missionsystem driving another car built by Pcmoreno, the Winthorpe Picareta.
Weighing in at a considerable 1624kg, this car's 3.2L B6 makes 214hp. It's got double wishbone suspension all around, and the suspension is concerningly low of for the jumps on this course but it has massive tires (I wonder if we'll see them clipping through the body?). It also has four disc brakes, and offroad tires.
https://d3hrnetf5izp16.cloudfront.net/optimized/4X/4/9/a/49a15c6461d26d26a2cfe426d806a2d73de9c6d7_1_690x388.jpg
@ImKaeR in the Texan Rico
The heaviest truck at 1900kg, this is powered by a 3.8L I6 making 316 horsepower, and it has a power to weight ratio of 0.107, the highest in the class by far. (And it gets 6.3mpg). The only question is whether it can put down the power. Its weight allow 255mm hard long life tires, which have been boosted to a +7 quality, and its power goes through a solid rear axle. It's also got hydro suspension for some reason.
https://d3hrnetf5izp16.cloudfront.net/optimized/4X/c/b/c/cbc026983b77bbae5415051ad4ffbbbfbd60e5fe_1_690x388.jpg
@Elenir1 in the Two Trucks.
This is an odd name for one truck. It weighs 1849kg and makes 269hp from a 3.6L B6. There's a surprise in the rear of the truck which just may have to wait until race day.

Double wishbone all around, variable power steering and even ABS make this… a truck which exceeds the engineering limit. Sorry, I'm taking the ABS off.
https://d3hrnetf5izp16.cloudfront.net/optimized/4X/b/a/b/bab515dc4c01a246ad30b353ffa6c84cf160ab31_1_690x388.jpg
@LS_Swapped_Rx-7 in the Magnus Sarasota Basedworks Limited Edition
This truck has a last minute change from V6 to V8. It weighs 1400-ish kg and makes 182hp. All solid axles and a tall ride height mean this should handle the moguls well.
https://d3hrnetf5izp16.cloudfront.net/optimized/4X/c/c/6/cc6e7816b1123ac80ba431c20b1dc6171979443b_1_690x388.jpg
@stigx24536 in the Bing Two:
Weighing a mere 940kg, this ultra-light truck makes 124hp from a traditional minmax style 1880cc I6 with DAOHC, aluminum block, and forged internals. It meets the market requirements on Offroad Utility rather than Utility. It has a 3-speed manual and double wishbone suspension all around, as well as 3-piston disc brakes(!) on every wheel. We'll have to see in the race if this car is some amazing Stig witchcraft or just a bizarre design.

It's still anyone's game though! This is a tricky course where control over jumps is going to have a huge impact on your time. There's a lot of disparity is power and power-to-weight ratios, but the mud is extremely soft and the fastest truck will be the one which grips the best.
Also, we're a bit short of drivers this race, so if you want to join and use an existing car (with permission of the designer) you can. I might have to think up a little different race format.
As always, cars are in the dropbox link in the OP. Server will be up tonight or tomorrow morning so you have a full day to test-connect before the race.
It's a much shorter event than usual, but the video is here! Stay tuned for the upcoming Event
#11
soon…
Automation Live Racing #11: Classic Sports Track Weekend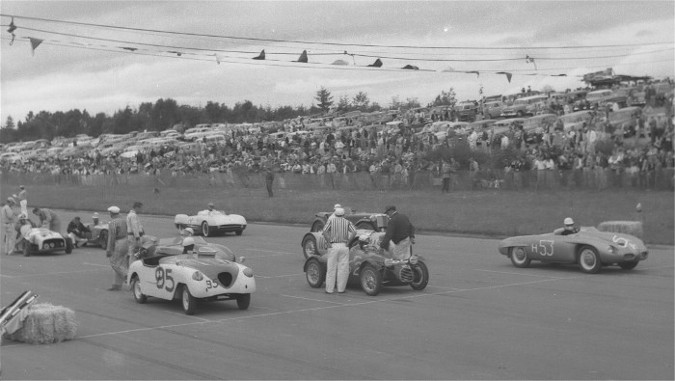 Welcome to the the place for live multiplayer racing in BeamNG! This will be a competition to determine the best combination of car and driver.

To play, you will need BeamNG, The BeamMP Multiplayer Mod as well as Automation.
Details on how to install mods, and links to our discord and dropbox, are in the
ORIGINAL POST
.
EVENT RULES
Theme
It is 1956, and post-war wealth has lead to a boom in the automotive industry. Only in recent years has the "sports car" truly come into its own as a class of vehicle. Constructed for pleasure and racing more than practical transport, sports cars of this era are small and light. Competition classes for ordinary drivers involve very small engine displacements, and the vehicles themselves are easily affordable.
The Race
Track: 4 Laps around the Lakeside Park Raceway.
Contact: No deliberately pitting, brake checking, or ramming drivers off the road.
Heats: Maximum 6 cars per heat. Number of heats depends on number of participants. Most drivers should race in two heats; one qualifying heat and one heat to determine final position.
Appearance Poll: Qualifying will be based on appearance poll! Top qualifiers will place into new heats first- EG the 2nd best voted car will be 1st on the grid in Heat 2, then 3rd would be either 1st in Heat 3 or 2nd in Heat 1 depending on the number of heats.
Schedule: Race is tentatively scheduled for 1:00PM US-CST on Friday, July 2nd. Cars must be submitted by noon the prior Wednesday!
Pre-Qualifier: To prevent issues with users connecting on race day, EVERYONE MUST CONNECT TO THE SERVER BEFOREHAND. The server will be up after cars are submitted. Just join any time and say hello if I'm in Discord, or take a screenshot showing you've connected successfully. Most race days we spend 80% of the time dealing with getting people into the server so this should save a lot of time.
Submissions
Teams: One driver per team, drivers may not double-book teams. NEW: A car may be used by multiple teams, or a designer may submit multiple cars. When submitting your car, include your Driver's name and control type (EG Steering Wheel, Gamepad, Keyboard).
Naming: Name your Model and Engine Family "ALR11-Username" and submit the .car file to me on the forums (not discord).
Picture: (NEW) Post a picture of your car in the thread when submitting. I will use your picture (or first picture if there are multiple) for the poll!
Schedule: To be included in the poll, and to give time for pre-downloads, cars must be submitted by 12:00 Noon US-CST on Wednesday, July 30th. The race will be in the afternoon the following Friday!
Pre-Download: When the poll goes up, all the car files will be in the dropbox, linked in the OP. It is strongly recommended that you download them ahead of time instead of when trying to join the server. See the OP link for mod installation instructions in order to make them work with BeamMP or KissMP. Remember to download this and PRE QUALIFY BEFORE THE RACE by connecting to the server!
CAR RULES
Inspiration









Car Requirements
Year: Trim year 1956
Total Estimated Cost: $14,000 or Less
Maximum Engineering Time: 65
Seats: Minimum 2 Full Seats
Minimum Quality: -4 on any part
Minimum Safety: 20, May not use "None" safety
Minimum Comfort: 10
Minimum Market Score: 200 in Light Sport, Fruinia Only (This is easy!)
Tires: Bias Ply, Sports or Medium Compound, +0 Quality
Tire Width: Max Width: 145mm, plus 10mm for every 100KG above 500KG, EG 800KG = Max 175mm Tire Width. Absolute Max of 185mm. Staggered tires may average the max width.
NO: Wing Fixtures, 4x4, Manual Locker, Auto Locker
Engine Requirements
Year: Variant year 1956
Maximum Engineering Time: 75
Max Displacement: 1.7cc/kg
NO Turbo
NO Race Parts
NO DAOHC
Maximum 2 Valves per Cylinder
Fuel: Super Leaded
Minimum Quality: -4 on any part
Maximum Loudness: 50
Maximum Stress: 5% in any category.
Tips
-There is no fuel economy requirement!
-Expected performance: About 0.9-0.95 cornering G, 80-120HP, and try to set a flying lap under 1:15.
-Practice the track! Know your braking points!
-It is NOT RECOMMENDED to model the interior of cars for BeamNG racing as this tends to add weight in beam and makes the model more complicated.
-DO NOT FORGET TO PRE-QUALIFY!!! I will bring the server up all day thursday!
-Do not forget to post a picture of your car. You can post multiple if you want.
-We will be using BeamMP. You may need to set your user folder for BeamMP manually with the option in the launcher.
-Go to the original post and click the Discord link if you need help!
COUNTDOWN TO SUBMISSION DEADLINE: DON'T BE LATE
Schedule US-CST Time:
Submit cars: WEDNESDAY JUNE 30th, 12:00
Race: FRIDAY JULY 2nd, 13:00
I'm rooting it's the last one
Adjusted: Back to no fuel economy requirement!
Coming straight from a bootleg factory in Argentina, we present to you, the Midgetman. This particular model has been borrowed from a rather… peculiar enterprise. But that won't stop it from competing
Bias-ply is the same as cross-ply as far as I know.
As for the abolition of the fuel economy requirements for this round, I think it was removed due to the fact that it made eligibility more difficult to achieve than anticipated.
The Micron, I picked the name because the styling sort of got away from me and it looked a little French in the end.

Spot on! A micron (also known as a micrometer) is a unit of measurement, equivalent to one-thousandth of a millimeter (or 1,000 nanometers), which makes it a very short distance indeed. Considering how small your car is, it makes perfect sense to use it as your car's name somehow.
This Week's Entries:
The race may be DELAYED due to BeamMP not launching after the latest BeamNG update. There is currently a workaround, but I might wait until there is a proper fix that's easier anyway.
Furthermore, The race format is CHANGING! Since we have only one heat worth of competitors, instead you'll be competing for points in multiple, different events which compare car and driver alike! Stay tuned!
@ImKaeR in the Husar Lancet
This is the "safety edition", as the version submitted had None safety- which might be legal in whatever weird country Husar is based in, but it's not legal here. The extra money spent on safety glass and such had to come out of interior quality. This car weighs 951kg (up from an original 920 or so) and has a 1.6L SOHC I6, making a whopping (for this market) 128 horsepower- that's more than I thought we'd see today! There's aggressive use of positive and negative quality sliders all over. This car is sitting on 13-inch wheels with 185mm sports tires.

@A_Harmless_Fly in the Micron
The Micron weighs in at 721kg, and has a 1.2L DAOHC- wait that's illegal don't you guys read the rules? I'm going to give this one a pity pass since it has the second-lowest power-to-weight.
The Micron has a 1.2L B6 making 88 horsepower. It's not highly optimized, since there's some engine ET and budget left. It's a ladder frame with double wishbone suspension all around, which seems to be the typical choice. Tires are on 14 inch wheels, and staggered at 145/165. Interestingly, it has a luxury interior with no entertainment system- for the sophisticated gentleman. Or for someone with a bad back who can't stand the music on the radio these days.

@Sigg610 in the Tenryu 1055
This is an extremely popular car- it has a market score of 678! What makes such a bestseller? A space frame chassis seems to be the secret. It's also incredibly light at 622kg, I think the lightest in this class. Engine is a 1055cc I3 (I3 engines don't get displacement in liters because they need the number to look bigger) with a DOHC. Very high compression and advanced timing get a peaky 89hp out of this diminutive displacement. It gets only 12 inch wheels and 145mm tires, and surprisingly, comes with power steering.

@pcmoreno in the Winthorpe Pod
Styling here is… distinctive, as ever. Although it looks like some kind of barebones kit build, it's one of the heavier cars at 911kg. It has a 1.5L SOHC I4 making 108 horsepower. Most of the rest is pretty standard, ladder frame with DW suspension. It does come with enormous 16 inch wheels, and tires big enough to make the max 185mm width- this car might have some impressive braking capabilities because of that. It also comes under budget and ET.

@Elenir1 in the MIdget Funeral
The name of this car is plastered on the side in yellow letters, although it's not shown in the photo. Like his last vehicle, this comes with a surprise in the back. This car weighs in at 623kg and makes 93hp from a 1055cc exactly I4, with the help of twin DCOE carbs. It's monocoque with macpherson/semi suspension, but still RWD. Every bit of ET is used on the trim and engine, and it has an impressive 0.088 Power to Weight.

@stigx24536 in the Hierarch
The E-type body does some of the heavy lifting here but this is a great looking car, and the luggage rack is a nice touch. This car weighs in at 601kg, and has a 1L SOHC I6 making 89 hp. This car has 11 inch wheels, which is probably necessary to get the 150/160 tires in. These may be a big advantage as most of the other cars in this weight range have 145mm tires. It does have tiny brakes, with have a little fade even with 78 pads and 100 brake ventilation. This is also a space frame car, and has no entertainment system.

As always, look in the OP for the file download! It will be up shortly after this post.
Ugh I misread DAOHC as Dual overhead cams DOHC when I was building it, I suppose that's what I get for building the car the night of though. Thanks for letting it slide.
it is also the only one which happens to look anywhere close to the cars on the main photo for this challenge

oof. my tires should have been 155s but i must have forgotten to widen them after fixing the quality