Erin cars are good , make those V8 into production please
soooooooo while komodo has been making huge capacity i4, erin is making miniscule V8s?
oh the wonder that is the automation world.
The increase in drivability is (maybe) because in the game as it is, a falling turbo curve is more drivable as a flat turbo torque curve get penalized. So maybe is not the v8 but rather the turbo design.
That said, GIVE US V8s x:
Excellent work in getting them economical. And on the other hand here I am with trying to make V12s economical because I refuse to build any V8 that isn't OHV.

So then, public feedback has been good…
Senior project management has been informed

Okay, time for something a little bit different. Long story short, I wanted to showcase two cars I've been working on, as well as bit of RP stuff. So, I decided that a magazine article would be perfect for this…
@Yamahafazer600, this is what I was talking about. In a similar vein to @Deskyx's Dimension Nova T250 Ver.2, but not a fast!
I'm not going to lie: I love special edition cars. 30th anniversary models, recreations of classic cars, you name it. And one of the most recognisable labels of a special edition car is the XR badge found on a handful of Erins throughout history. It's a step-up from the X badge, which designates that that car has been tuned in the pursuit of performance. XR's are limited edition, specially made versions of their cars that are designed to provide the most brilliant of driving experiences to the lucky few who get one. Only 500 of the car I'm driving today will be made, and it's one we've been looking forward to. Erin's two seater coupe, the Nardella, is getting the XR treatment. And better still, we've been invited along on a pre-release test.
It's not often that car companies lets us tag along on vehicle tests, which is partially why I'm excited for today's review. The other reason stands in front of me on a sign, reading "Erin Motor Company - X Department Research and Development Centre". For Erin fans, this is holy ground. It's been the birth place of all of the company's sports tuned cars for the past 50 years, and is also home to ErinSport. Everything from sports saloons to two seat roadsters to Le Mans winners have come out of the steel gates that greet the crew and I, the dew still clinging on. It may well be just past 5 am on a fresh June morning, but I'm thoroughly awake.
Bang on the dot of 5:07 am, the gate opens to let an Erin Berlose towing a motorsport trailer through, followed shortly by a small convoy of vehicles. We are greeted by some company executives; introductions over, we're in the van and off.
The X Department's R&D centre is built on a disused airfield, part of the aptly named "Airfield Industrial Estate" in Ashbourne, Derbyshire. A good location to secretly test sports cars, under the disguise of a town more accustomed to elderly tourists and ramblers. But that's not all; Ashbourne is on the edge of the Peak District, the place we're headed to this morning.
Erin obviously liked the benefits of this place. It's filled with a mix of roads, some twisty, some straight, that are often quiet and, most importantly, hard to reach. Trying to conduct automotive espionage in a place where the weather can change in moments is not going to being fun for anyone, meaning the X Department pretty much has free reign of this beautiful part of England.
Climbing higher into the hills, the sun appears behind us at last, dousing the sparse landscape with a gorgeous orange glow and giving us a preview of the distinctive bright green of the grass up here. Cars have been tested here by Erin since 1955, when then-CEO Dominic Erin was looking for a location to put that year's Targa Florio car through its paces. Another car tested here is one that is intrinsically linked with the Nardella XR - the Lira 200SL.
The Lira is one of the most famous Erins of all time. From 1968 to 1981, it was the company's 2 seater entry level sports car, famed for its V4 engine. In 1972, to celebrate the 50,000th Lira to be built, the X Department released the 200SL, the SL standing for Super Lightweight. This was a special edition, stripped down version of the Lira that was designed to be more focused than the base car. It didn't carry the XR badge, but only because Erin had yet to start branding such cars this way. The similarities between this and the Nardella are obvious, so what better an excuse to bring them together.
The first hour or so is spent testing the car. We're in a quiet corner of the Peak District, having just passed through the little village of Wetton. The road in question is the one linking this village with Butterton. It's a narrow, hilly trail that descends into a valley and is surrounded by cow fields. This is one of many roads they use regularly, and like all of the roads they use regularly, they don't tend to obey the speed limits.
"We don't worry about the police catching us" says one of the engineers. "Very few are up at this time of the morning, and even fewer are going to be that bothered about us speeding down roads barely anyone uses". I ask him "But what if you encounter another vehicle? It's not like you can pass easily here". He laughs, and replies simply "It's a good excuse to test the brakes."
A few more runs and its off to the next location. This time, it's an unnamed road near Harlington, that follows an old river bed, providing a number of circuit-esque sweeping bends. And then it's off to another location, deeper and deeper into the Peak District. I may not be driving the car, but seeing it being finalised and adjusted is something special; it's a glimpse into the thousands of man hours that go into designing a car.
Finally, at 6:31 am, it's my turn to drive. We're now at The Pack Horse Inn at Crowdecote. It's been a regular stop on these tests for the X Department ever since they began testing here, and we finally get to meet the other car I'm driving today. The Lira 200SL sits in the carpark in front of the pub, next to its owner, esteemed car collector Joseph Goodman. A former ErinSport engineer, he knows this place very well, and regularly drove cars for the department. He's seen as a bit of a legend at the X Department, and he is warmly welcomed by the engineers.
One of the executives briefs us on what we'll be allowed to do. "You haven't got long in the car, before the traffic gets too busy" he says, handing us a map of the route we're taking. They're not trusting me entirely with the car, as I'm being accompanied by an engineer. But, we'll be followed by Goodman in the Lira; it'll be an excellent chance to compare the two.
What amazes you when you get into the car is the sheer lack of features. The biggest luxury here is the radio, which is only a small touchscreen with a handful of buttons. A very limited aircon system has been fitted as well, but that is pretty much it. The dashboard itself is made of a lot less material too than the standard car, one of the many weight reductions in the car. Behind me, I can only see the roll cage, and a pitiful amount of carpet that's only there to cover the bare metal.
Sound sparse to you? That's because its supposed to be. You buy this car for the experience of driving it, not the creature comforts. And that driving experience begins the moment you start the 2.4l i4 Turbo. This is the same engine as the one found in the Merna XEco from last year, slightly more powerful and just as loud. A warbling baritone fills the car, and I take her onto the road.
I immediately felt the weight difference. With some 150kg shaved off, the car is much sharper in the corners and more planted. The acceleration too is greater too; 0-60 takes just 5.8 seconds, and the torque from that turbo really forces you back in your seat. This car could be faster, but that's not the point. What really counts on this machine is the work they've done elsewhere, which you notice the moment you take it onto some twisty back roads.
The suspension is perhaps it's best feature. The XR has been fitted with the same active system found on more expensive X-tuned cars, and it feels dynamic and responsive. Push it hard round a sharp bend and the car stiffens up to keep you flat, without overdoing it and making the ride choppy. Over bumps, it's certainly firm, but doesn't become uncomfortable. It's able to react fast and deal with rougher surfaces, and you'll find that to be a real a confidence booster when it comes to how far you want to push the car.
Much like the suspension, the grip of this thing isn't too razor sharp either. There's enough to stop the car from understeering or oversteering, but also enough to keep you on your toes from time to time; this car can get a bit loose when you want it to. The ethos of this car seems to be about enjoyment, and letting you fully appreciate the excellent all-Aluminium chassis of the base car in its most well-tuned state.
By now, we're in some of the highest reaches of the Peak District, and the early morning sun is becoming brighter. I get to see the reflections from the gentle bulges in the bonnet every once in a while, reminding me that is more than just you're average sports car. The styling is tasteful; it may well have bigger flares on the wheel arches and there's some minimal aero body work dotted around the car, but it's not unsightly.
Behind me, I see the Lira. It looks suited to these sorts of roads and despite the 40 year age gap, it keeps up fairly well. Every so often, the gorgeous and gentle rumble of its V4 pierces the air, only adding to the sound of the Nardella. The engineer beside me is certainly happy too. While he has been jotting the odd note down on some paper and typing some numbers into his tablet, he's clearly wanting to see what I think of this car too.
Perhaps if there is one thing to criticise, it's that this car is too sporty. I can't imagine taking it on a motorway with the lack of sound insulation, let alone luxuries, and it's by no means relaxing to drive. Perhaps I even need to be a little more awake to drive this thing safely; either way, this is not made for the morning commute.
But then again, what better a way to experience this part of the world; Erin know that when the X Department develop cars up here, they always turn out well. This will be no exception when production begins in just over 2 months time, and the rest of the automotive press get to drive this car properly.
We reach Newhaven and pull over into a petrol station. The rest of the X Department team are waiting there; my time in this car is over. It may have only been 25 minutes, but it's been a genuine experience. This is one hell of a special car, and I'm now getting into an equally special one. Goodman gets out of the drivers seat and I climb in to the Lira 200SL.
And my, what a difference. If the Nardella's cabin is sparse, then the Lira's is positively barren. Almost everything has been stripped out in the focus of absolute weight loss, and it shows - this car has a kerb weight of a mere 742kg, meaning the 130 bhp from the tuned 2.0l V4 engine makes a serious impact.
6.8 seconds from 0-60. That's it. On a car that was made in 1972. This thing can keep up with most hothatches. The difference is though, hothatches don't tend to feel light or nimble. Whatever revs you're doing, this car will rocket away the moment you hit the accelerator.
We rocket down the A515 before switching onto some backroads. The Lira was a car that always loved corners, and with even less weight to worry about, the 200SL is a borderline masterpiece. Sure, it's not as tight as modern cars, but it's that slightly rounded feel that you get with a vehicle of this age that makes it all the more fun. It's just a little bit dangerous to be doing 45 round a sharp, downhill right hander in this car, and it only makes it more enjoyable.
The chassis setup is also fantastic. The fibreglass body that replaces the normal steel one should make the car feel looser, but it doesn't. All of the key components are molded to a steel subframe connected to a steel chassis, as well two roll bars to compensate for the lack of rigidity. The result is that it feels solid, strange for something this light. No rolling in the corners, no high centre of gravity, none of that whatsoever.
It must be said that the brakes were a bit iffy. Great when they were cool, on the sloppy side when they were hot. Goodman tells me that they're original spec discs and pads, meaning that they won't hold a candle to modern systems. "Why not upgrade them?" I ask him, especially given the huge availibility of aftermarket bits for the Lira. "Nah" he replies. "It'd spoil the experience".
That's exactly what this car is. An experience. Owning this car is an agreement with yourself that you're willing to give up modern automotive amenities in exchange for one of the most fun to drive cars money can buy. On any other road, I'd be getting annoyed at the wind noise, the rough ride, the lack of padding in the seats, the absence of a radio - you get the picture. But when you're slinging this little gem round the Winnats Road, nothing else matters.
The sumptuous noise of that V4, that is so instantly recognisable and so much better than other 4 cylinder blocks; the response of the steering, that's light enough to be manageable but still gives you enough feedback to keep you from getting bored; the ever-so-slightly difficult nature of driving this car, thanks to its astonishing power-to-weight ratio and racing suspension setup; it's a combination like no other.
We arrive in Bakewell. I'm in need of refreshment and more breakfast. Plus the obligatory Bakewell Pudding. How can you come to the Peak District without a visit here? It feels like a safe retreat from the spectacle and grandeur of the District. More than that, it gives me some time to mull over two great cars that I've driven today.
There is no denying the similarity in ethos these vehicles share. Even if one is a modern, advanced sports coupe and the other is a barebones, no frills weekend toy, they both centre themselves around being the ultimate version of their respective base models. They're celebrations of the design achievements of these cars.
I found an instance connection with the Nardella XR. It's going to be one of the best cars of this year, no doubt. Proof that even the big manafacturers like to let their hair down once in a while, and making something purposefully lacking in practically in favour of pure driving pleasure.
The Lira 200SL too is a superb car. You could never drive this every day, but I see few better ways of spending a Sunday afternoon than blasting one of these through the English countryside. It's old without being outdated; a magnificent ode to the joys of driving.
Cars like these don't come around often. They're a special treat for motoring journalists like myself; a break from the usual reviews of everyday cars. And that's because they're made to remind us that driving is not all about the daily commute or the school run. It can, on the off occasion, be just about you, the driver. Any special edition car has got to make you feel special too, and it's exactly what the X Department does with XR models. That limited list of cars made this way that began with the 200SL has now got another entry, and it is one hell of a driving machine.
The Nardella XR goes on sale at the start of November this year, for 26600 Automoation Dollars.
#So yeah, big well done if you managed to read all of that


This - believe it or not - was meant to be shorter. But, I decided to go wild. It was inspired by articles in car magazines, especially Top Gear magazine.
I do realise that in quite a lot of this review, I was bigging up my cars, which probably comes across as just me blowing my own trumpet. So, if anyone would like to review these cars for real, just PM me and I'll be happy to send a test model

Critique/comments/complaints all welcome!
Liked instantly. Superb write up and visuals. Magazine material even.
It's difficult to make a spotlight on a company not sound like an advertisement but you've done it. Bravo. In 4 years of daily Jalopnik browsing I have never seen anything even close to this caliber of writing.
My word. Thank you so much for the praise! It really means a lot

hory. that is some nice work man ! please do more
Now this is a story that could pass for a real magazine article for an enthusiasts' publication. Keep up the good work!
##The Berlose Mk 4 - Making Up For Lost Time
Having been overshadowed by the succes of the new Tauga, the Mk 3 Berlose hadn't been as good as Erin hoped. They needed the Mk 4 to be a far greater car in order for it take its place alongside the Tauga and to maintain its position in the executive saloon market. So, it became the lead car for Erin's new 2nd generation Millenial design style and was given class leading characteristics, resulting in an excellent saloon car.
2006 Erin Berlose (Mk 4)
The previous Berlose got caught a little in the shadow of the then-brand new Tauga, and Erin were keen to reestablish the position of their executive saloon with the Mk 4.
Launched in 2006, the Mk 4 Berlose introduced Erin's second generation of Millenial engines, as well as continuing Erin's use of aluminium for body panels on their saloon vehicles. The chassis of this car was one of the company's best achievements of the last 10 years; lightweight, versatile and incredibly well balanced - the weight distribution is 50.2/49.8 F/R. In turn, it added in room for AWD systems to reduce development costs down the line.
The Mk 4 was also great from the customer's perspective too: above average fuel economy, particular on the petrol engined models, good performance (0-60 in 6.4 seconds was achievable with the 6-speed manual gearbox) and superb driving characteristics, the car's best quality. It was nimble thanks to its low weight and great distribution, as well as being an excellent long distance cruiser and very comfortable wherever you drove it.
More sporty features such as a limited slip diff and adaptive suspension were included as standard on most trim levels, while Erin collaborated with Kenwood to develop the infotainment system on the car.
If this car were a song, it'd be Black and White Town by Doves
2006 Erin Berlose X 4.0l
The most powerful Berlose made to date, the X 4.0l arrived in the mid-noughties with a lot of catching up to do. The previous generation had not been the success Erin had hoped for, having been trying to replicate the 1996 Berlose X-AllDrive. This, however, was a fresh start, and it was packed with plenty of features to set it apart from the competition.
Its lightweight construction meant it weighed less than all its rivals, and the 50/50 weight balance ensured it was poised and balanced. The active suspension system was all new from the ground up, and would also find its way into the Tauga X-AllDrive the following year. It was the most advanced system Erin had ever developed, and allowed for a brilliant range of setups and a dynamic, responsive feel through the corners.
The 4.0l V8 was specially designed for the car; simple in design, advanced in construction, ensuring it was an excellent powerplant for the car. Delivery said power was a single clutch 7 speed sequential box, developed from an ErinSport gearbox that had been used on some of the teams ELMS vehicles. To compliment the advanced transmission, an electric limited slip diff was fitted for maximum traction.
The result was a 202 mph super saloon that could reach 60 in just 4.5 seconds. It may not have been the most elegant of cars in terms of handling, but it was good enough to give its lighter Tauga X-AllDrive sibling a run for its money.
Despite the superb performance, the looks were kept simple and tasteful, maintaining the infamous stance of the Mk 4 Berlose while still being menacing enough to warrant a second look.
If this car were a song, it'd be Galvanize by The Chemical Brothers
Interesting looking machines. Very economical too!
What's this car's price point?
Like the look of the Mk.4 Berlose. Is its V8 engine a cross-plane or flat-crank engine?
And why did you use a single-clutch sequential gearbox, even though dual-clutch transmissions are available from 2006 onwards?
Finally, is the engine turbocharged or not, and why?
@Deskyx Thanks!

Price range would have been from £24999 to ~£50000. The red one (Vox trim) is top of the range, so would be from around £36k and upwards. The standard X 4.0l without no optional extras is £50460.
@abg7 It's a flat-plane V8, Erin's more used to working with those as they often draw on expertise from their motorsport department to develop the engines. Also, higher revs

Then, with the single clutch transmission, it's a bit cheaper and it's also less complicated. In the Erin canon, this is the same gearbox that ends up on the Tauga X-AllDrive, which is a smaller car, and to maintain a lower weight on that car, it made sense to just develop one single-clutch transmission.
And no, the engine isn't turbocharged. Reasons? Firstly, it doesn't need any more power so there's no benefit there. Secondly, we're not too fussed about efficiency on this sort of a car and to be honest, 22 mpg from a 448 hp V8 is pretty good in my opinion

Thirdly, turbo lag. I didn't want it on this sort of a car, just a nice, smooth torque-power curve.
Hope that answers some stuff!
Is 2016 Tauga and Merna out yet?
Techincally they're the 2014 models, Merna can be found here and the Tauga here, but I am wanting to facelift it properly at some point. You can find some sneak peaks of how that'll end up here and here (So many links!

)
About an hour ago, this appeared on the Erin website.

Circulating rumours all point to a facelifted Tauga being announced in the next few days, with major updates to the Touring and X tuned versions of the car. If true, this will be the first facelift of Erin's current design style.
Stay tuned for more updates.
Great , another compact sedan that fit my next comparision!
That sounds good! When is the deadline for the comparison?
Right then, here we are. @Rk38, @Starfish94, @phale, @Yamahafazer600, @szafirowy01, @Deskyx, @EnryGT5, this is my offering into the Battle of the Compacts. And to prove I mean buisiness, this is just about the most detailed post I've ever made on this forum

#2016 Erin Tauga (Mk 3 Facelift) - OUTDATED
[color=red]This post is now outdated.[/color]
Introducing the facelifted version of the 3rd generation Tauga. This post showcases the new design of the car and also acts as an info page for the Mk 3 in general.
##Overview
Erin's compact executive saloon has continuously innovated since its launch back in 1999, and now some 17 years later, it is still maintaining the original ethos of the Tauga: not to be the car of the future, but the car you'll be driving in 5 years time.
Utilising the same Aluminium body/AHS Steel chassis setup we've always used, the new Tauga is as light as ever, yet still manages to integrate excellent safety-focused design features and provide an adaptable platform on which to develop different variants.
A brand new multi-link rear suspension design has been created that has allowed our engineers to make different setups for the Saloon, Coupe and Tourer models, allowing for each model to drive as well as the other whilst accounting for different weights.
The interior and boot are larger than ever thanks to new chassis design, enlarging the cabin space without affecting the centre of gravity. That means better practicality whilst maintaining the Tauga's great driving characteristics.
A whole range of new features have been implemented on this latest generation, including:
ADRAC Suspension (Adaptive Reaction Suspension) - a limited, cost effective, semi-active suspension system is included as standard on all models, to provide an adjustable and rewarding driving experience.
Limited Slips Diffs as standard - vastly improving traction and handling all trim levels in the range.
TapTouch™ - custom designed, Android powered infotainment system that works alongside your smartphone, all controlled via a gorgeous 9" touchscreen display*, including Gecko™ voice control.
Erin RoadSmart safety pack - providing viewing cameras, radar guidance, autobraking, adaptive lighting and other assistance & warning features to ensure the safest drive possible, alongside the 5 star Euro NCAP rating.
For the facelift, the Tauga saw a major redesign of its exterior and updates to its interior, plus the introduction of a new engine and the release of the much anticipated X-tuned version.
* 9" display not availible on S trim level, which instead has a 7" display
---
##Aesthetic Changes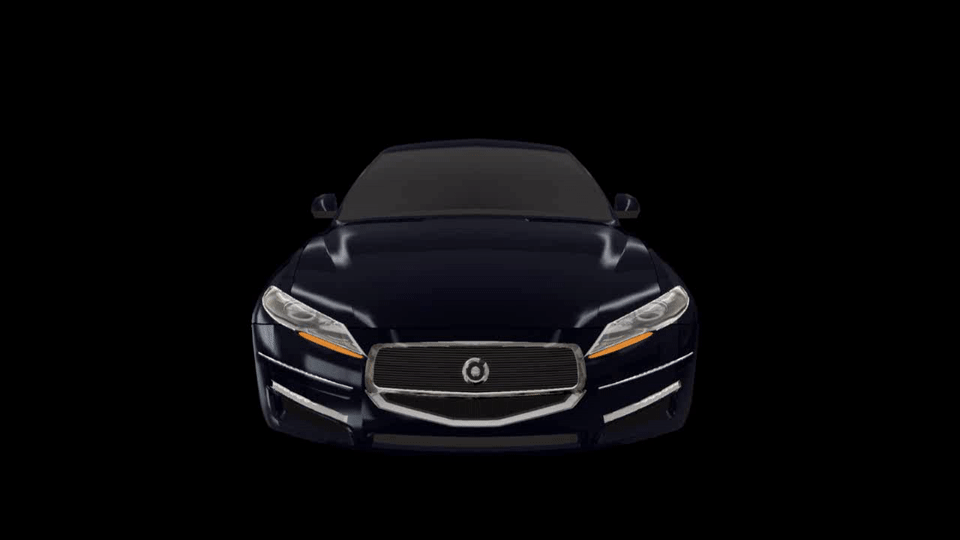 The Tauga showcases the 2nd generation of the 2010s design style, sharpening up the most distinctive features and adding new details. The shape of the body has partially shifted too. More focus on angular styling was the main change, and this can be seen all over the car.
##New Engine
Back in 2015, Erin launched the Merna X-Eco, powered by a turbocharged 2.4l i4. While originally built specifically for that car, it has since made its way into the Nardella XR, and now onto the Tauga. This version has been detuned to be more economical, reducing the size of the turbo, changing the cam profile and running a much leaner air-fuel mixture. The result is an all-purpose engine that works brilliantly in every version of the car, and provides a reliable and efficient power source.
##Return of the Tauga X

After 2 years in development, the Tauga X 3.3 is finally back. More powerful and more advanced than ever, this new edition of the car builds on the previous one with a 7 speed double-clutch sequential gearbox mated to a fully electronic differential, all-active suspension and a the 5th generation of Erin's classic 3.3l V6, now producing 417 hp. 0-60 is dealt with in 4.6 seconds, 4 seconds if you use launch control, and it'll top out at 191 mph.
Speed isn't everything though; this car is a military grade weapon in the corners, with a 52F/48R weight distribution that ensures this thing isn't tail happy but also won't overseer. Plus, compared to its rivals, this is a lightweight machine: 1670kg is all it has to deal with, meaning it is pointed and planted on the road.
Rumours have also circulated that X tuned versions of the Coupe and the Tourer could also be released later this year.
##A Tauga For Everyone
If the Saloon version isn't quite what your after, then the Coupe and the Tourer might be more to your taste.
As always, the Coupe has been developed separately to other variants, ensuring that this car is more than just the Saloon version with part of the roof chopped off. The whole cabin is lowered and the rear seats are shifted to ensure that passengers in the back still have plenty of space and that comfort levels are kept high. The lower weight also makes Coupe variants the fastest in the range.
If you're wanting the superb driving characteristics and excellent efficiency of the Tauga with room enough to take the whole family and the dog on holiday, then the Tourer is the option for you. All trims come with Erin's AllDrive AWD system as standard, and benefit from acres of boot space. Perfect for exploring muddy backroads one day and commuting to work the next.
---
##Pricing Guide
To keep things simple, the stats shown are only for the Saloon version of the car. Drivability and Sportiness scores vary a little between this and the other variants, but it's usually only by around 3 points either way.
As standard, all cars come with a 6 speed manual gearbox.
S 2.0l/2.4l - Saloon from £20760, Coupe from £20862, Tourer from £22360
Faux-leather interior, standard detailing, choice of 16" and 17" wheels, standard sound system, premium air-con system, lite cruise control system, collision mitigation system, 5 USB charging ports, in-car internet**

Lex 2.0l/2.4l/2.5l - Saloon from £26040, Coupe from £26230, Tourer from £27225
Leather interior, chrome detailing, choice of 16"-19" wheels, improved sound system, full cruise control system, dual-zone climate control, collision mitigation system, 5 USB charging ports, in-car internet**

Vox 2.4l/2.5l - Saloon from £30240, Coupe from £30353, Tourer from £31200
Leather interior, chrome detailing, choice of 16" to 19" wheels, Bang & Oulfsen sound system, full cruise control system, dual-zone climate control, RoadSmart pack as standard, 5 USB charging ports plus wireless charging pad, tinted rear windows, in-car internet**

X 3.3 - Saloon from £49800
Sports interior, optional bucket seats with 3 point harness, 18" custom wheels, Bang & Oulfsen sound system, full cruise control, dual-zone climate control, RoadSmart pack, 5 USB charging ports plus wireless charging pad, tinted rear windows, in-car internet**, all-active suspension, 7 speed DCT transmission, active cooling flaps, X button plus XTune settings, electronic active limited slip differential

###Engines
Details of the engines available for the Tauga are as follows:
2.0l i4 TDi TwinC
Power: 184hp @ 6600 rpm - Torque: 179 ft-lb @ 4300 rpm - Reliability: 72.7 - Smoothness: 57.6 -
Efficiency: 30.31%
2.4l i4 TDi TwinC (Eco Variant)
Power: 216hp @ 5800 rpm - Torque: 223 ft-lb @ 4300 rpm - Reliability: 77.1 - Smoothness: 59.0 -
Efficiency: 31.21%
2.5l i6 TDi TwinC
Power: 241hp @ 6300 rpm - Torque: 223 ft-lb @ 5000 rpm - Reliability: 78.8 - Smoothness: 82.1 -
Efficiency: 31.95%
3.3l V6 Di TwinC
Power: 417hp @ 8600 rpm - Torque: 274 ft-lb @ 7100 rpm - Reliability: 79.8 - Smoothness: 68.8 -
Efficiency: 27.60%
###Optional Extras
Features that can be configured to all trim levels.
AllDrive - £999 - All wheel drive system, for improved acceleration and grip.
Not available with 2.5l i6 TDi engine.
RoadSmart Safety Pack - £549 - Advanced safety pack that comes with:
Radar guided cruise control, auto-adjusting headlights, autobraking, self-parking, lane departure warning, full 360 degree viewing cameras, auto dim rear view mirror, tire pressure warning, grip monitoring system, heated front and rear windscreens, heated mirrors, 2 extra airbags
7 Speed Auto Gearbox - £239 - 7 Speed automatic transmission for smoother driving.
Exploration Pack - £679 - Pack of extras designed to increase utility, comes with:
Tow bar, roof rack, mud flaps, all-weather carpets,
Plus, exclusive to Tourer models: Dog guard, rear bumper boot protector, extra boot lighting
**In-car internet provided via Telefonica over 4G connection. Subscription based. T&Cs apply.
---
##Why buy the Tauga?
When compared with it's rivals from Saminda, Maesima and other companies, the Tauga may seem more expensive. Plus, in many cases, it can't match them for Drivability or Comfort. But what you get with for that extra money makes all the difference:
• More choice - Different bodies to suit your needs, and a whole host extra features, some available as standard and some as optional extras.
• Better Safety - A surprising advantage in this day and age; Erin maintains its commitment to very high safety standards with the Tauga.
• Rear. Wheel. Drive. - You're not buying a family hatchback, you're buying a sedan. Where the power goes matters.
• Properly engineered suspension - We don't mess around in this department. The Tauga has proper double wishbones at the front and a superbly designed multi-link setup at the rear, plus it's semi-active.
• More power from better engines - Efficiency and performance go hand in hand with Erin's Pureon engines. Perhaps it's a lame point to make, but that extra power benefits how you drive, from overtaking on a motorway all the way up to towing caravans and trailers. And all of this adds up to…
• A Far Superior Driving Experience - There's no need for silly words like 'dynamic' and 'responsive'; the Tauga provides a brilliant and rewarding driving characterstic.
---
Comments, criticism, complaints all welcome! I'd love to hear what you have to say

##UPDATE:
Statitsics and prices are now all up to date (15/10/16)