Around 1982, Sisten was engineering a compact sedan for their new brand, Corsica. However, around 1983, the company that was supposed to supply Sisten with the materials the new sedan was supposed to be built from went bust. Their demise came from mismanagement issues. Due to the problem, Corsica's first sedan instead became the Oakwood, a stop-gap model until Sisten managed to find a new supplier.
After many delays, the now named Solar went on sale in 1986, with a design that was done in '82.
Now, a few months before the official launch, Mr. Tennant had a great idea.
"Why don't we promote our new model with a product placement in the show EVERYBODY is watching tonight?"
With that, the '86 Solar was featured in the third season premiere of Miami Vice Florida Cops.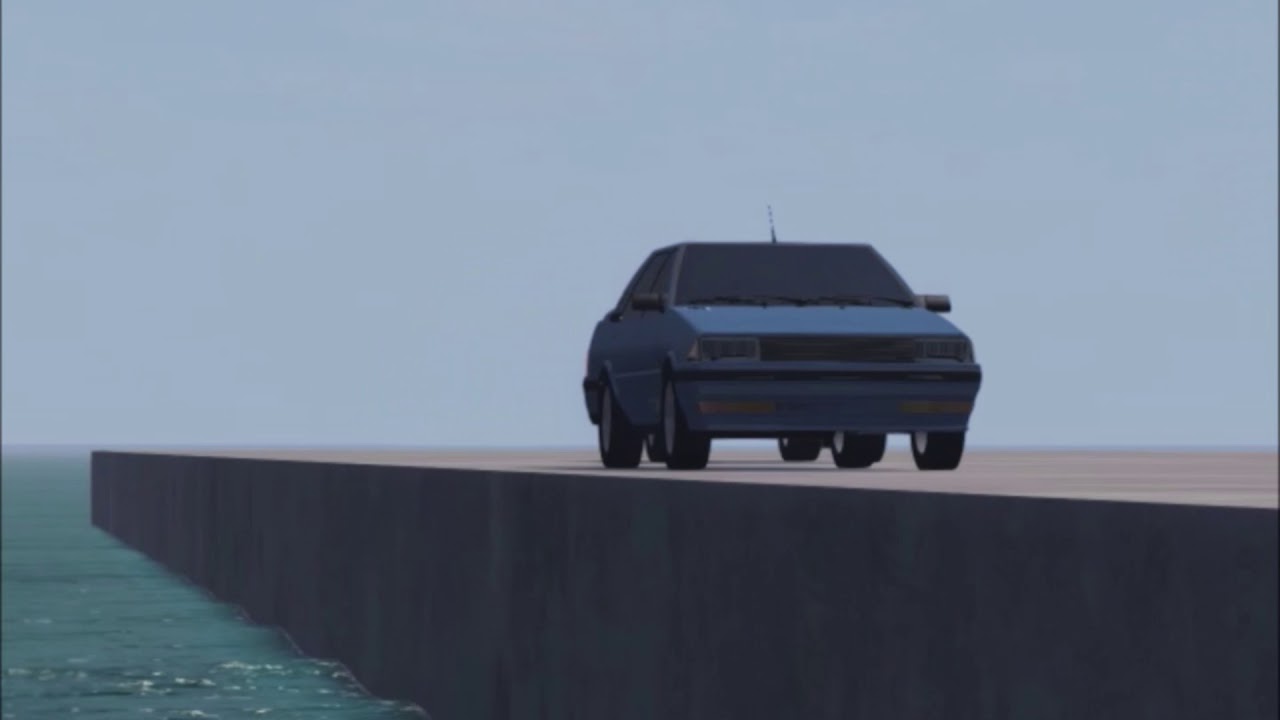 Many thanks to @Mr.Computah for allowing me to use his excellent Module UR-82 for the video! Really, couldn't have done that without it.

---
Corsica Solar Gen. 1
from 1986-1993

Designed by Kenneth Carmichael, it was only Corsica's second design made from scratch, after the original 1981 Cheetah. The design is made from sharp edges and boxy shapes, everything that would fit on a car in 1983.
In 1987, the Solar became the official company car of the Sisten Motoring Corporation, after the Sisten Sunburst.
This model would be known as the car that truly launched Corsica, being their first true volume-seller.

Underneath the shell, the Solar features a basic steel monocoque chassis with a Transverse FWD layout. MacPherson Struts can be found in the front with Torsion Beams taking their place in the back.
Inside, the traditional gauge cluster was replaced with a SPACE AGE digital screen cluster, shown above.

Unusually for a car like this, all three engines that were available were designed from the ground up just for this model.
Our first option is a 1.6 liter Inline-4, making a whole 93 horsepower and speeding this beast from 0-100 km/h in 10.4 seconds. It utilizes a 16 Valve, double overhead cam design as well as Multipint fuel injection.
The second engine on offer is a 1.8 liter Inline-4, now making 110 horsepower. Essentially using the same design as the 1.6, the 1.8 was on offer from 1986 until 1990. Interestingly, this engine (with some modifications) is still in use on the South American Sisten Cargovan.
The third engine available is the turbocharged 2.2 liter Inline-4. Internally named "SC Molecule", this version generates 146 horsepower and 211 Nm of torque. The "Molecule" was only ever available with the Sport trim.

In total, there were 4 trim versions. The base model GL included cloth seats, an 8-track player and no air conditioning. This trim was only ever available with a 5-speed manual, like the Sport.
The mid-line SL upgraded the cloth seats to slightly nicer cloth seats. A/C was standard and a 3-speed automatic became available and the mirrors were mostly body-colored.
For the recently retired grandpa, the luxury SE trim came exclusively with the 3-speed automatic and a fancy cassette player. And you could get it in beige (as pictured above).
The most expensive version however, would be the Sport. Optioned from the factory with a nice spoiler and "TURBO" stickers, it would actually end up being the second most popular version, behind the SL.

From '86 to '93, a total of 1,004,601 first generation Solars were produced. Until 2010, this would be the most popular Corsica model.



Karen took the kids again.
---
SPECIFICATIONS
1.6 I4 | 1986
Horsepower: 93hp @ 6000 RPM
Torque: 132 Nm @ 2700 RPM
Top Speed: 165km/h
0-100km/h: 10.4 seconds (5-speed)
Transmission: 5-speed manual

1.8 I4 | 1986
Horsepower: 110hp @ 6200 RPM
Torque: 154 Nm @ 3600 RPM
Top Speed: 170km/h
0-100km/h: 10.7 seconds (3-speed)
Transmission: 3-speed automatic, 5-speed manual

2.2 I4 Turbo | 1986
Horsepower: 146hp @ 5900 RPM
Torque: 211 Nm @ 3700 RPM
Top Speed: 188km/h
0-100km/h: 7.9 seconds (5-speed)
Transmission: 5-speed manual
---
Skipping yet another year in 1987, Corsica's flagship and their halo model, the Cheetah would get its first generation change for 1988.
And then in 1989 they made a minivan. Because "sports brand".
The Solar is synthwave tastic and that chase was awesome!

Fantastic piece of 80's design, excellent video and nice interior! I wish I could put something this nice together!
Dammit Karen!!
bookmarks this for when I'm done with LC and reboots Derrickson
A print advertisement from 1990, after the launch of the Zeta sports car.
---
By 1984, the Corsica Cheetah had proven itself to be a popular pony car. Models were flying off the shelves (by Sisten standards, at least) and nearly every TV show featured one as a background extra. Indeed, it was proving to be so popular that the smart heads at Corsica immediately started working on the new one.
After 4 smooth years spent in development, the Cheetah II was launched at the North American International Auto Show in 1988, the same place where the original Cheetah had been introduced.
---
Corsica Cheetah II
from 1988-1996
Design
The first drafts for the second generation Cheetah featured a design very similar to the original model, with key differences including slimmer headlights, a completely redesigned B-pillar and an overall lower height. However, once these designs reached Jack Tennant (CEO of the Sisten Motoring Corporation, former heavyweight champion), he quickly rejected them. In his famous words: "It's exactly the same!" Following this, he ordered the design team to take cues from the Sisten 2000 concept vehicle. As a result, the final version looked radically different, with a much more muscular stance, a shark-nose element in the front and a two-tone paint job on all models.
---
Engines & Transmissions
Overall, a total of three engines were offered. The first of these is the entry-level, 3.0 liter V6. Internally known as the 30C680, this was a modified version of the V6 in the original Cheetah. Utilizing the same 24-valve layout, power output was increased from 171 to 184 horsepower. With that, 0-100 km/h was decreased to just 6.9 seconds. Torque numbers increased as well, namely from 218 to 240 Nm. When it comes to transmission options, the 5-speed manual in use was the SMTYR4 from the 1988 to 1991 model years. Starting in 1992, it was replaced with the SMTUR4 version, being much more reliable and easy to fix than the original. The automatic on offer was a 4-speed automatic, again being the same as in the original Cheetah.
The second engine, the 4.5 GV was again a modified version of the engine used in the first generation. Thanks to more modern techniques, horsepower shot up from 200 to 237 horsepower, torque went up from 271 to 330 Nm. This version of the engine ended up also being used in the base-model Sisten Canyon pickup truck. With a 0-100km/h of just 6.3 seconds, the V8 was definitely quick for its day.
The third engine is actually a turbocharged version of the V6, available exclusively with the Sport Turbo. While horsepower went to 192 horsepower, it was just 0.1 seconds faster to 100 km/h. This was due to the secret fact that the Turbo was simply meant to be a more fuel efficient version in the range. The average fuel economy rating was 17.4 MPG.
---
Trims and Special Versions
Each engine corresponded to their own trim version. As is tradition with the Cheetah, the V6 Sport was the "entry-level" model and the V8 Supersport was the flagship model. However, another model entered the range in 1990; the V8 Circuit Special.
The Circuit Special (pictured below) filled two spots with its existence. It was both a cosmetic upgrade to the V8 and it was also a more track focused version. With stiffer suspension, a spoiler and louvres, the CS lasted from 1990 until 1995.
The V6 Sport Turbo (pictured above) joined the model range in 1992, sitting between the Sport and Supersport. As mentioned earlier, it used a modified V6 with a turbo attached to it. This model would last until the production for the Cheetah II would end.
---
Production
Nearly 800,000 units from this generation were produced. About 700,000 of those were in the Sisten Detroit plant in Detroit, the other 100,000 were made in Mexico.
The last unit of the second generation Cheetah rolled off of the production line in 1996.
---
Specifications
| Corsica Cheetah II | V6 Sport | V6 Sport Turbo | V8 Supersport | V8 Circuit Special |
| --- | --- | --- | --- | --- |
| Engine | | | | |
| Engine Type | 30C680 | 30C680 TC | GV V8 | GV V8 |
| Horsepower | 184 | 192 | 237 | 237 |
| Torque | 241 | 251 | 330 | 330 |
| Drivetrain | Rear-Wheel Drive | - | - | - |
| Performance | | | | |
| Top Speed | 221km/h | 223km/h | 239km/h | 234km/h |
| 0-100 km/h | 6.9 seconds | 6.8 seconds | 6.3 seconds | 6.2 seconds |
| 80-120 km/h | 4.4 seconds | 4.4 seconds | 3.8 seconds | 3.7 seconds |
| Fuel Economy | 16.7 MPG | 17.4 MPG | 13.8 MPG | 13.7 MPG |
| Car | | | | |
| Weight | 1196kg | 1250kg | 1257kg | 1240kg |
| Price (N/A) | $12,700 | $13,000 | $14,200 | $14,500 |
---
Then they made a minivan in 1989. Screw everybody.

Why is the turbo V6 offered when it doesn't have much more power than the atmo V6? Oh, I get it. It's meant to provide better economy. But with any engine, the Cheetah lives up to its name - it has the moves to match its looks.
The 88 Cheetah and the new Minivan are looking good.
EDIT: After 24 hours, Design 3 has won the poll - With that, thank you to everyone who voted, I really appreciate it a lot!
---
Welcome to…
"I Can't Decide Which Design Is Better So I'll Let You Decide!"
---
Hello and welcome to the first annual "Please Help Me" poll!
I (Corsica) am planning (is planning) to announce the 2020 Yosemite at the upcoming New York International Auto Show. However, I'm having real trouble deciding between the front-light design, so I'm hoping the community can help me with the decision.
With that, there is a poll below where you can vote for one of three designs.
Design 1: Arguably the most basic of the designs, this is the first one I made. It was used for my CSR 94 entry, albeit on a pickup rather than an SUV.
Design 2: With this one, the side reflector is now slimmer. Also it now looks a bit like a Range Rover…
Design 3: The final design features a much sharper, sleeker reflector. Although I like it a lot, I fear that it might look too much like a modern Kimura (from titleguy1). If this design gets any complaints, it's very unlikely it will be chosen as the final version.
---
In case this helps, here are pictures of the 1st generation as well as the current 4th generation models.
---
Design 1
Design 2
Design 3
---
If you think that none of these designs are good or you have any other suggestions, please do let me know!
When was Corsica founded again? Just asking

You should like, uh read the thread sometime, donut.
I'm gonna make a useless argument that I think will make this situation not worse when it really does and make people hate me even more. (Jk just a joke I'm just an absolute dumbass at times)
…what? I've read that sentence many times now and I've still no idea what you are talking about
yay 100
Idk either and I made the comment
let's play a new forum game called don't do that

Also are the plastic flares around the wheel arches on the car or custom? Just wanting to know so when Automation is done taking 20 minutes to load I can make a project car and use ideas I got from other cars.
For God's sake everything is custom
First of all, I'd like to thank @On3CherryShake and @Boiled_Steak for helping out Mr. Donut while I was not available. An additional thank you to @CC9020 .
Now, @desperatedonut5 . As your no. 1 biggest fan here on these forums, I have honestly had it with you spamming every thread you find with useless, throwaway comments that you seemingly make to start drama. You have been told many times to stop the spam and yet you simply will not take notice. And no, I wouldn't excuse this behavior because you are seemingly younger than others here; anyone who is old enough to use the internet and be allowed to make an account in this forum should have to be able to understand the forum etiquette. Your "Idk either and I made the comment"…comment seems to show exactly what kind of a commenter you are. You just don't care. And if you don't care, then what is the point of commenting?
If your urge to reply on others threads really can't control itself, then how-a-bout you say something that the other person could find useful or be thankful for.
"Wow, that is most definitely a very unique design choice - I am really liking that!"
That's pretty basic, however it's still a million times better than
"I kinda dig the weird hatchback design".
Saying that to a car made by a legendary designer here is stupid.
As for you seemingly constantly using Corsica or even Sisten in your lore… yeah do continue please, that's funny. Once you ask for permission, at least. But… "When was Corsica founded again? Just asking" - Why the hell did you ask that? For the love of god I still don't understand, please answer.
Here's what I think you should do: you should take a little break from this place, grow a little older and learn how human interactions online work. Then, after about a year, you come back. Then you're only going to continue with one company while not being a hazard to the community.
I'm sorry. There's no excuses for my absolute stupidity. I will refrain from this website until April 2nd so I can let my reign on this forum collapse and I can become a sensible fucking human being. I am sorry for making this forum into crap and I promise to try and not do it again. I wanted today to be a mostly liking posts day but that clearly didn't work. I'm sorry and goodbye for a while - Mr. Donut <3
P.S When I get back. I'm gonna put the others on hold and only have Taimania as my only company for now.