---
–Tsukuba Touge Time Trial | AutoBeam Challenge–
–Stable Branch–
I was going to wait for the new update, but it's going to be a while yet and I'll have to balance the rule again so let's do it now.
Premise

Top Car International is a long running automotive media series based in Japan. They release magazines, books and videos showcasing the latest and greatest trends in motoring.

Turbo Times is a magazine under the Top Car banner which specializes in tuning cars. Established in the late 1980's. They're famous for a series of videos which focused on comparing the best cars from all over the world on the famous Mountain Roads, or Toge in Japanese. The featured racing driver would test the car on a section of closed off mountain roads to give both time run and subjective evaluation.

The series attracted fans all over the planet, from the original manufacturers with the latest performance machine to aftermarket parts manufacturers with their complete car demo, with viewership reaching into millions by the time of widespread internet.
tl;dr Japanese Mountain Road Downhill Evaluation
---
–The Track–
I will be using the Asahi Pass in Ibaraki Prefecture, or as commonly known to weebs as the Tsukuba Fruits Line because that's the name that was used in Initial D.
The route that I will be taking is the exact same as in the Manga/Anime and not the videogame version, which included the wider, less windy Omote Tsukuba Skyline section for some reason. I will be using the downhill direction.
It is a very curvy track with little to no high speed corner and almost no straight away. The most speed achievable with the most overpowered meme machine is perhaps 180km/h. Most cars will be doing at most 120-150 km/h. The track is approximately 2.8km long and will take around 2 minutes each run. This map can be easily found via your favourite search engine.
There is not a limit to how many runs I do with each car. If I screw up I will reset and try again. I will stop once I get 3 representative times of each car and take the fastest as the result. (I will post the time of all 3 good runs).
Here is a video of one test run. Although I will not be making result videos. It will be text/image/spreadsheet format. (Maybe there'll be demonstration run of the best few cars? Who knows).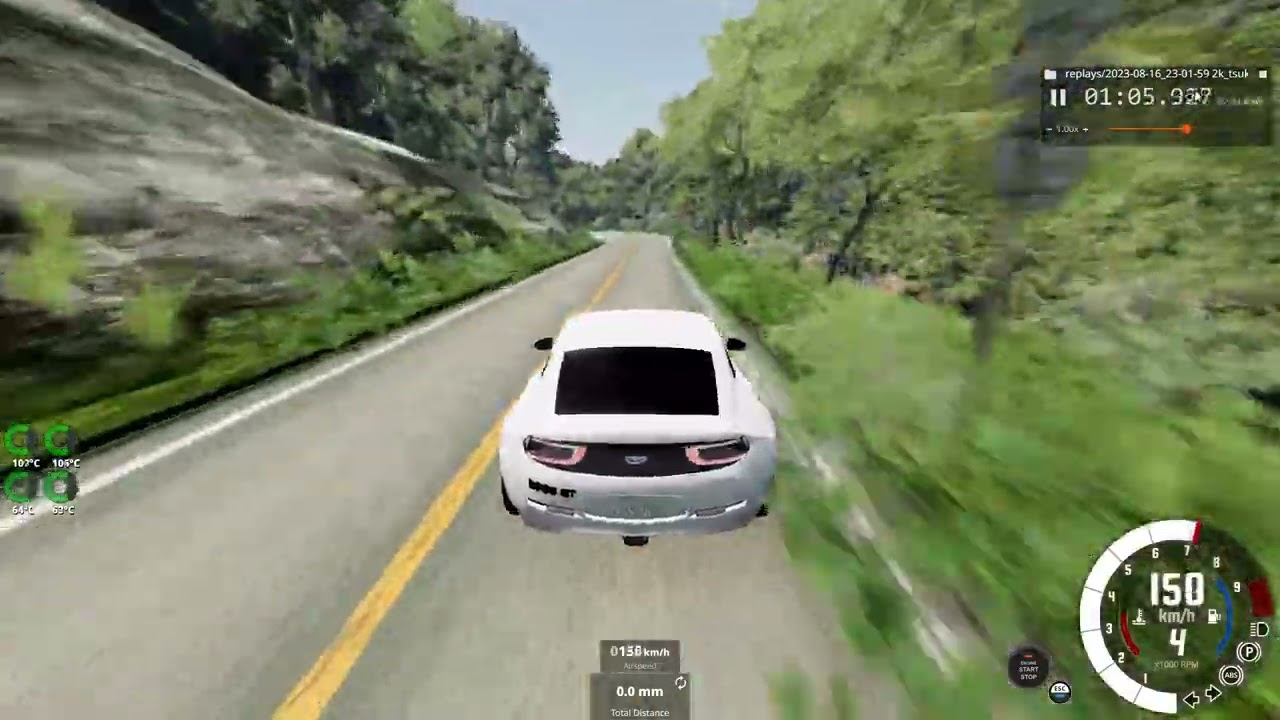 ---
–Judging–
There will be 2 leaderboards for you to compete in.
Not only will there be a timed leaderboard, there will also be a subjective judging leaderboard. Basically a score of how good/bad the car feels to drive.
The subjective judging will be separated into 4 sections. Each combine to the total of 100 points. There will also be a short summary of each section to explain the score.
Engine/Powertrain Calibration | Start | (30pts)
How well the engine/gearbox combo responds in various conditions. Does the engine power curve actually provide usable acceleration? Is the gear ratio appropriate to the course? Can the throttle be controlled easily? Does the wheel spin uselessly?

Handling Characteristic | Steer | (30pts)
How well the car turns. Does it understeer? Does it oversteer? How sharp is the response? Is the car too stiff or too soft or just right?

Braking Characteristic | Stop | (30pts)
How well the car slows down. What's the brake balance? Does it send you backwards as soon as you touch the brakes? Does it plough into understeer? Does the brake fade into oblivion before the finish line?

Overall Driving Package | Smile | (10pts)
This is an x-factor rating. Basically how enjoyable the car is to drive overall. Yes, although not easy, you can make a car that scored all above sections badly to do well in this section.
The result will be text-based.
---
–The Rules–
Overall rules
Model/Trim/Family/Variant Year : Unlimited. 1946-2020. Trim/Variant Year does not have to match to account for engine swaps.
Mod bodies are allowed. Legacy bodies, open wheelers and non-car bodies are not allowed. This is due to general broken-ness.
Quality sliders no lower than -2
Techpool must be the default +5 (Including the tire/rims)
You are allowed to use race parts.
Trim rules
Max Price : $30,000
Tire Quality must be 0
Tire profile must be at least 35
A maximum of 2 aerodynamic devices (lip, spoiler, wing). This aero device does not have to be visible
Safety equipment era : Must match with the trim year. (Basic type is fine).
Minimum Comfort : 5
Reliability : Above 0
Engine rules.
Engine must be stress free.
Engine must be able to run on Ultimate Unleaded RON100/AKI95. This means you can use fuel with less Octane but not Leaded Fuel, Ethanol, LPG, Devmeth etc.
Maximum Loudness : 65
V16 allowed. I do have the DLC.
After these trim years, the car must be equipped with the following emission and safety device.
1980 | 3-way Catalytic Converter (High Flow type is OK).
2010 | Anti-Lock Brake, Traction Control and Electronic Stability Control
Although the T/C and ESC is mandatory for some years, it will be turned off for driving.
The car should also be road legal, this means the car has to be equipped with headlamp, brake light, indicators, fenders, etc. This is not a strict rule and does not have to be absolutely 100% correct to the book in real life.
Advance Trim Setting
You are not allowed to adjust advance trim settings by default.

If you wish to adjust some settings to fix something, you have to apply for a special permit by outlining the reason in the DM with the submission which may or may not be accepted. In general, things like tunnel size or engine sound will be allowed, but you're still having to note this in the DM.
---
–Recommendations/Notes–
The budget given may seem low, but you can make plenty ridiculous cars with it. I am able to make a clone of an R35 GT-R with 720hp which is also actually pretty competitive.
Downforce matters only a little bit because there's only few corners where the speed exceeds 100km/h. With properly tuned car it's worth maybe half a second.
That being said, high speed cornering curve (shown by default in aero tab) matters a lot and should be taken into consideration when tuning the suspension. You can lose more than a second here.
It would be wise to actually test the car first before submission. One problem does keep cropping up that can make the car completely undrivable. With the combination of narrow/tall body, lightweight car, and wide grippy tires, risk of grip rolling is extremely high. Surprisingly other handling quirks I expected aren't that apparent.
Yes, you can very much make retro (pre-1980) car competitive in time attack section, although not to the crossply era. Yes, I have tested this, among more than 30 test mules that I have created and run, one of them is a 1955 crossply-equipped coupe with ladder chassis and live rear axle. Indeed, it is not competitive in the time attack, but it is still fun to drive.
When testing in BeamNG, I will be removing all of the fixtures except for the aero devices. This is obviously for performance purposes. I will also be adjusting the weight distribution to be as close as possible, but not the weight itself.
If you must submit something unconventional like manual locking diff 4WD equipped car. It is totally allowed and I will be running it in the realistic setting. In the example case, RWD mode with differential unlocked.
---
–Inspiration/Vibe–
Click to Expand

https://www.youtube.com/watch?v=rTen-Fu9bAY












---
–Submissions–
Each person is allowed to submit up to 2 cars. Allowing for different approach.
If you wish you can send those cars separately, in the same DM.
You will be allowed resubmission one time for each car if it breaks the rules or is simply undrivable. Although it will go back to the end of the queue.
DEADLINE: Saturday 30th September 2023, 18.00 GMT+9. Click here for Countdown.
Name Format
Optionally, you can put 1 and 2 after [your name] to signify which car you want me to run first. If it is not specify I will just go alphabetically.
The car will be run in the order of submissions, it's similar to magazine review in that I'll be testing as soon as they come in and not after the submissions end.
---