Want to play against other players' companies in the Campaign?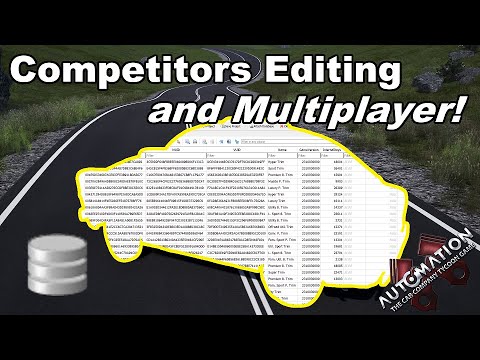 Now that it's possible to add player-made cars to the Competitors.db file and there's only a few kinks left to work out, I'd like to start adding some save files to a Competitors.db file which I will share. The goal is to get as many human-made cars as possible into the competitors file, so you can try to compete against them.
What I need from you are some save files! If you've played a full campaign since Ellisbury update, upload your save file and post a link to your file host of choice EG google drive, dropbox, file.io, whatever.

You can also find this folder by pasting %localappdata%\AutomationGame\Saved\UserData\Campaign in your Windows file browser.
I can also take all the cars from a company in a Sandbox.db, it's located in one folder above the campaign folder. It also requires me to make up some numbers with regard to that company's market awareness (and therefore sales numbers).
How do you play it?
I'll add them to a competitor database on my Google Drive. Then you can download that competitors.db.

Place it in Automation\UE427\AutomationGame\Content\GameData\Camso\tycoon (back up the original first!)

If you want to have the thumbnails visible, you'll need to add them to the save file you are playing.

Download SQLite DB Browser and open the Competitors.db
Click the Attach button, and attach your save file. It will ask for a name, name it 'savefile'.
Run the thumbnail script from my Google Drive link.
Once this is done, you'll be able to play with human competitors! In the future I'll make a few more improvements to this script, and maybe even make a tool that does all this in a few clicks (eventually). Then just look in the Sales Breakdown (AKA Sankey Chart) in the markets tab, and see your competition's sales. They're competing for the same customers you are, so it might make the game harder!

A couple tips!
Competitor companies will produce ONE trim from EACH FACELIFT for EACH TARGET MARKET. That means that if you did not choose a DIFFERENT target market for EACH TRIM, then only one trim will appear in-game from that facelift!
The current version of the script also only causes companies to appear in months you actually played. So if you submit a save file from 1980, your company will disappear in-game after that. If you have a starting year later than 1946, your company will not appear on the list until you actually started playing.
Some details will not be accurate: Price is calculated automatically, and I don't know how margins are decided, so it won't be the same price you manually chose. Sales numbers will not be the same either. Competitor companies also get only one Market Awareness number for each country, it's the same for all markets, and my current script tries to estimate this number to be based on your single highest market but it is not exact.