I think this is about as close as I can get this to the real thing. I have the correct numbers, just at the wrong RPMs.

H1 Engines…H1 V8…H1 V8 Automation…H1 V8 Rev1 Automation
Head Metal…Aluminium*…AlSi…AlSi
Block Metal…Billet 6061-T6 Al…AlSi…AlSi
Crank Style…180° FP…180° FP…180° FP
Crank Metal…Billet nitrided steel…Billet Steel…Billet Steel
Bore…84…84…84
Stroke…63…63…63
Rod Type…4340 H-beam w/ARP bolts…Forged H-beam…Forged H-beam
Capacity…2793cc*…2793cc…2793cc
Engine Size…530mm x 485mm x 530mm…465mm x 414mm x 556mm…465mm x 433mm x 556mm
Engine Weight…200LBs w/o Exhaust*…393.6LBs…381.4LBs
Compression Ratio…12.5:1*…12.5:1…12.5:1
Cylinders…8…8…8
Power…400HP @ 10,000RPM…400HP @ 9,400RPM…400HP @ 9,400RPM
Torque…245Lb-Ft @ 7,500RPM…245Lb-Ft @ 7,800…245Lb-Ft @ 7,800
Valve Train…DOHC…DOHC…DOHC
Valves / Cylinder…4 (32)…4 (32)…4 (32)
Fuel Type…"Pump Gas"…Regular Unleaded 91…Regular Unleaded 95
Rev Limiter…10,300*…10,300…10,300
Intake…Race…Race…Race
Exhaust…Race*…Race…Race
Fuel System…MPFI/TPC*…DI/TPC…MPFI/TPC
Block Type…75° odd fire…Default…Default
Is a "Best Guess" from pictures / information on Hartley's Website.
Engine Pictures: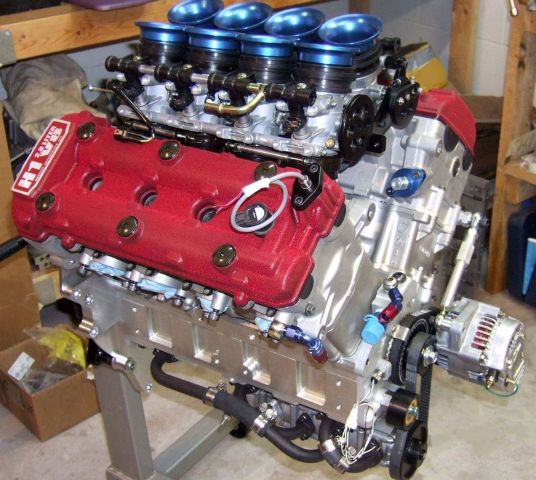 Automation:

Rev1:


H1 V8Rev1.lua (29 KB)
H1 V8Rev0.lua (29 KB)