High Noon Touge Challenge
Hakone Turnpike, Evening, 5th July 1994
Story

A white Steurmann SC-3000 can be found hanging out alone at one of the parking spot at Hakone Turnpike with the driver leaning against the car, talking on his bulky 90's handphone.Looking closer, the man was wearing a white inner shirt with dark green bomber jacket and black jeans. The man can be heard chatting about yesterday's touge race session that happened on this track with some laughs and giggle here and there.

"And that's how Mrs.Mitsuki in her Sendo GT that got crashed into a ditch last night. Woman driver, am i right?" followed by a laugh from the man.

Suddenly, a woman in a white blouse and jeans appeared from the nearby convenience store, carrying a bottle of ice tea and a packet of bun, heading to the man leaning on the Steurmann.

"Have you got no respect for the woman in the Sendo last night? You even promised me to not underestimate that girl last night too, Mr.'Corner Expert' aka Tanaka Haneji." said by the girl.

"Promises are made to be broken, Yui. Besides, i saw her that she was big talk gal that she can do touge and such in that car, she deserves what she got, babe." Tanaka replied.

"Yeah but do you really need to say that? Ugh anyways, here's your bun that you requested." Yui handed over a bun to Tanaka.

Tanaka took a few bites of the bun. "Mr.Yamata's recipe, always a classic." Yui drank the ice tea that she bought from the store.

"So, what brings us here? Usually when we're here, it's always the big talk that you always pressed on, so what's up? Is Yanagi got thrown into state prison this time or…?" Yui asked with comtemplated face. Tanaka opens up Steurmann's door and grabbed the group pic of HNC Touge, showed it to Yui.

"See anything wrong, babe?" Tanaka asked while showing the pic to Yui.

"Uh… i see nothing wrong here other than you guys posing on the middle of the road." Yui replied.

"I mean you're not wrong but other than that?" Tanaka asked.

Yui hums while she was thinking what was wrong with the group pic. "It's time for Yanagi to upgrade his car? I don't know."

'Yeah, we should ask him to upgrade his junk to something more newer but i'm planning to add one new member to our club." Tanaka said to Yui while putting back the pic into the car.

"One more? I thought you're happy with the three of us." Yui questioned.

"Yeah but i feel like not satisfied with this amount of people in this club. Besides, our club been a talk of the town and whole country since we featured in Option's magazine, bet a lot of drivers are interested in our club right now." Tanaka replied.

"I mean you're not wrong, we do blow up in terms of popularity these lately and i do get a feeling we do need another member in to our club. Alright, I'm up for this but how are we gonna advertise this? Pamphlets or…?"

"Posters, invitation card, Internet, anything that can advertise our club as long as the police won't invade us during the new member recruitment session." Tanaka replied enthusiastically.

"Well, i know a guy of a guy who are experts in these kind of things, don't you worry about it." Yui said while gave a small light punch to Tanaka's shoulder.

"Good! Consider our little cute meeting done and head to McDonalds back in the town, eh?" Tanaka then open the door for Yui to get in to the car, engine's roaring from the ignition and they head back to the town downhill.
---
So, this club is looking out for a brave, fast and agile touge racer. Doesn't matter what cars the recruit brings as long it's fast on touge road especially Hakone Turnpike which they usually do run most of the time and some other touge road in Japan.
---
Requirements
No body requirements which means you can send in a pickup, minivan or anything but please no meme bodies.
No engine requirements or size limit but no V16 engine.
No drivetrain requirements.
Engine ET : 150
Trim ET : 150
Approximate Cost : $40k soft limit, the lesser the better.
Race parts and semi slicks are allowed
Fuel Type : 98 RON Unleaded for modern cars / 98 RON Leaded for older car
Catalytic Converter is a required for 98 RON Unleaded cars but not for 98 RON Leaded cars
Model year 1974 and above are required to have catalytic converter.
Max Trim year should be 1994, no more newer than that.
Realism rules applies here, no stupid build like "FWD" aka AWD but powers the front wheel 100%.
---
Priorities






Drivability - Although the club consist of your amateur drivers schmuck but they prioritize drivability so they didn't flew off the ditch but they're good at throttle control and powerful cars.
Sportiness - I mean, jelly suspension car on touge road? Totally viable at all! Totally. Jokes aside, they want car that can handle some mean corner on high speed.
Reliability - Although we're not expecting Toyota Corolla of reliability but as long as the car can do many runs while not visiting the local mechanic many times in one week, you're good.




Fuel Economy - Although it's not a long course, they are planning to not visit the local gas station many times per run or whatever.
Comfort - They're humans and need comfort, expect some luxury in it.
Safety - I guess this is self explanatory? Hoping the car don't explode in one small bump.


Practicality - Although the members put spare parts at each respective rest stop, they still put them in their car just in case they broke down in the middle of nowhere.
Utility - uh, you get the point.
---
Track Rundown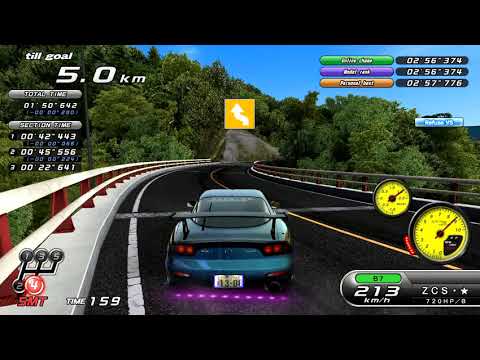 ---
Automation Time Trial
Your car will be tested on Haruna Downhill in Automation since we don't have really any touge map in this game and this is the closest one.
Haruna_Downhill.zip (1.5 MB)
---
Real Life Touge Video Examples
Videos

Eurobeat & Drift 6 - 1993 - YouTube

Eurobeat & Drift 7 - 1990 - YouTube
---
Car Inspirations
Inspiration
---
Playlist
Playlist

90s Super Eurobeat Mix - YouTube

58 Minutes of Classic Eurobeat for Celebrating 100k and Bipping and Bopping and Drifting and Driving - YouTube
---
QNA
"Will this challenge be tested for BeamNG?"
Nah, not planning to do that since some people don't have that game and will give some disadvantage to some people.
---
Deadline
Time until Wednesday, 17 November 2021, 11:59:00 (Kuala Lumpur time)
Naming Convention
both of model and engine family name : HNT - (your forum username)
Trim name : Name of your car
Variant name : Your engine name
You can send in your entry now!
---