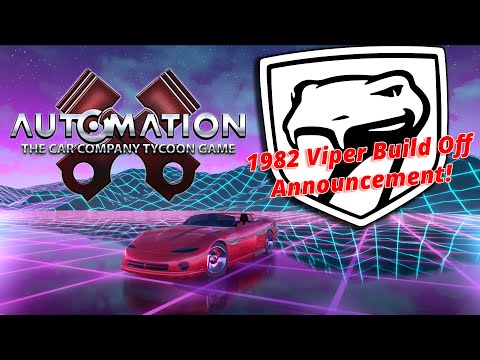 Build Deadline: Feb 17 2023
This is a build competition similar to the one I ran in 2018, where viewers built cars in the theme of the "Next Generation" 2020 Dodge Viper, and I reviewed and ranked them via driving them in BeamNG. It is not quite the traditional competition. This time I am looking for 1982 Viper Concept Cars, so imagine if the viper had come out 10 years prior. The video has detailed instructions on how to enter, but the basics are as follows:
As mentioned in the video, mods are welcome, but ideally use the collection here to ensure your fixtures are properly represented: Steam Workshop::[NEW] All Current Mods for 4.27 (373) [Delta's Current Mod Amalgamation]
The only hard rules are:
Model year must be 1982
Model must be named your Alias
All 3 required files (.car, screenshot, text description document) must be in a folder of your alias on the drive.
Submission form (private entry): https://forms.gle/kTMVvyG73HA3Epy68
The Submission link (public entry):
Viper Buildoff 2023 - Google Drive
If you have any questions feel free to ask, and if I need to adjust my post format feel free to let me know, this is my first time sharing one of these buildoffs on the forum so I might need to learn the format a bit. Thanks for checking out the competition and I hope you come up with something great!