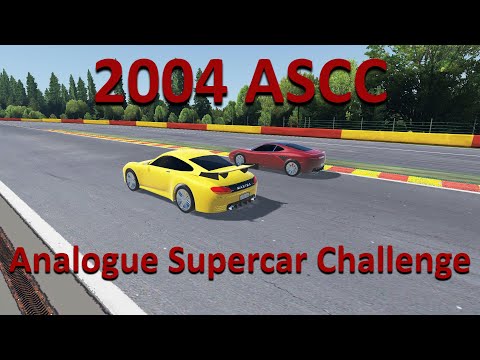 The early-mid 2000s produced the best supercars of all time, in my opinion. While it is true that today's supercars are faster, more fuel-efficient and more technologically advanced, 15-20 years ago the cars still had more charme, more character. Not least because they had a lot less electronics distracting you or interfering with the driving experience.
You could argue that there should be a separation between different classes of "supercars", even in 2004. For example, the Bugatti Veyron and Koenigsegg CCX stand far above, say, a Ferrari F430. Both in terms of price and in terms of performance. The Ferrari F430 and Lamborghini Gallardo also basically represented the "entry-level supercar" market whereas the Murcielago or the Enzo, along with the Porsche Carrera GT and McLaren SLR represented the flagship supercars of their respective manufacturers.
However, another breed of supercars that still somewhat exists today but is definitely dying is the analogue supercar, which has a manual transmission, RWD and very few (if any) driver assists. This typically makes these cars less expensive than other, more "sophisticated" (or complicated) cars of comparable performance, while offering a much more old-school and puristic driving experience. No need to turn your 5-way adjustible suspension selector to "Sport" if the suspension is always sporty, after all. And no need to navigate the (by today's standards) crude and complicated infotainment system to a hidden submenu in order to turn your exhausts to loud if they're just always loud. And let's be honest, if you buy a supercar you want those exhausts to be loud, don't you?
Of course, what else you want from your supercar is a striking exterior. People might hear you from a mile away, but when they finally see the car they should still be just as amazed by the looks as they were by the noise. And last, but definitely not least, the car has to be fast. Really fast.
RULES:

Year: 2004
Body type: coupe or convertible from the last 10 years (aka the body can't be older than 1994)
wheelbase: 2.45m-2.75m
Chassis: Monocoque, Space Frame or Semi Space Frame
Engine type: any
Super Unleaded fuel
must have three-way or high-flow three-way cat.
max. loudness 70 (just so that it's still road legal)
Drive type: RWD
manual transmission
Tyre compound: no Semi-Slicks
max. tyre width 305mm
max. rim size 19"
Interior: at least 2 full seats, standard interior or better, Standard Entertainment or better, standard 90s safety or better
Quality sliders: up to 20 positive quality allowed, no more than +5 in a single category. No limits on negative quality points
price: up to 150.000$
No invisible/hidden wings, lips or other aero fixtures. If the car has downforce, it has to show it!
This time, rather than restricting power/weight, I set some performance targets which all submitted cars must meet. This is to give everyone a bit more freedom for creativity, because let's face it, if there's a maximum allowed power/weight ratio, everyone will try to get as close as possible to that limit so most of the cars will feel very similar to each other. This here is an attempt to allow for a bit more variety in terms of how you approach the challenge, while still making sure nobody runs away or lags behind significantly.
Performance targets (in Automation):
0-100km/h 3.5-3.9s (anything faster than 3.5s or slower than 3.9s will be disqualified)
top speed 300km/h+ (anything slower will be disqualified)
Car must meet both of these targets!
Inspirations:

Fort GT:


Noble M400:


TVR Tuscan S:

Judging criteria:
To get the Nürburgring and Spa tracks to show up in BeamNG, download the zip folders linked above and copy paste them into the following directory on your PC:
C:\Users\ (your username here)\AppData\Local\BeamNG.drive\0.23\mods
For styling, each car will get a subjective score from 1-10
In the races, first 10 places will get points. 1st place = 10 points, 2nd place = 9 points, … 10th place = 1 point. 11th place and below = 0 points
Overall score = (Styling Score * 2) + Race 1 score + Race 2 score + Race 3 score
Tiebraker: West Coast Drag Strip (fastest quarter mile time wins the tiebraker)
Depending on how many entries we get, I might eliminate the bottom X cars after each race, to make subsequent races more interesting. If we get 30 submissions, for example, the bottom 5 after each race will be eliminated, so only 25 cars would go through to race 2 and only 20 to race 3. If we get 40 entries, I would eliminate the bottom 10 after each race. If we get 50 or more I don't know what I'm gonna do lol.
Submissions:
First valid submission counts. If your car breaks one or more of the rules (including performance targets), I will ping you as soon as I notice the flaw and you will get one resubmission. If your car fails again, you're out.
I strongly prefer submissions through my discord because that way it's much easier for me to track who submitted what, how many people submitted while I was gone from my PC, etc. Join my discord here: Tom Henks Chillout, then drag and drop your car file into the "community-challenge-files" subchannel.
However, if you don't have discord and can't install this free desktop app for some reason, you can also submit your car by sending me a PM here on the forums. Since I typically only check the forums once or twice a day, I might not get back to you as quickly as I would on discord.
Deadline: October 24th, 2021 at 5pm CEST
Race 1: October 24th, 2021 at 6pm CEST
Race 2: October 30th, 2021 at 6pm CEST
Race 3: October 31st, 2021 at 6pm CEST
The races will be streamed on my Youtube channel: https://www.youtube.com/channel/UCEazrZkjQcCxLaMmj79c62Q
I hope you'll enjoy this challenge as much as I'm sure I'll enjoy testing all of these cars! Happy building, and good luck to everyone!
(PS: You can fit traction control to your car if you want, but I'll turn it off in the races anyway, as is tradition. No need for me to ban it as a result)