The Autódromo Hermanos Rodríguez has been Mexico's premier racing circuit for more than 50 years, hosting a range of international events during its lifetime. Sitting as part of a giant sports complex in the south-east of the capital, the circuit has seen categories from Formula One to Indycars, NASCAR, top class sportscars and even drag racing grace its route.
Named after Mexico's two most revered racing drivers, Ricardo and Pedro Rodríguez (the name literally translates as the autodrome of the Rodríguez brothers), the idea for the circuit actually came from their father, Pedro Natalio Rodríguez. The president readily agreed and the director of works of the city government, the engineer Gilberto Valenzuela, was commissioned to visit different tracks in the world to gather ideas. Construction took place during 1959 and the Autódromo Magdalena Mixiuhca was complete by year-end. The first race, the Mexico City 500 Miles, took place on December 20 and was appropriately won by Pedro Rodríguez with brother Ricardo in third, separated by the other great local racer of the era, Moisés Solana.
The first non-championship Formula One race was held in 1962. A year later, the Formula One circus returned, this time for a fully-fledged World Championship event. Formula One would continue its visits through the 1960s, often as the season-ending event. The race was popular with drivers and spectators, with an end-of-term feeling prevalent.
The 1992 Grand Prix, won by Nigel Mansell, would prove to be the last for a number of years, as Formula One moved to new venues in the far east. World Superbikes were brought into replace F1 as the headline event, but the first attempt in 1993 descended into farce when the poor organisation of old returned and the riders found the circuit in a completely unsuitable condition for racing. Stray dogs and footballs from the nearby soccer pitches ended up entering the circuit during practice sessions.
At the moment, CART, Formula 1, NASCAR, Formula E and the WEC use this track.

Background track graphic modified from racingcircuits.info
http://snaplap.s3-us-west-2.amazonaws.com/wp-content/uploads/2016/08/29135514/ahr-stock.jpg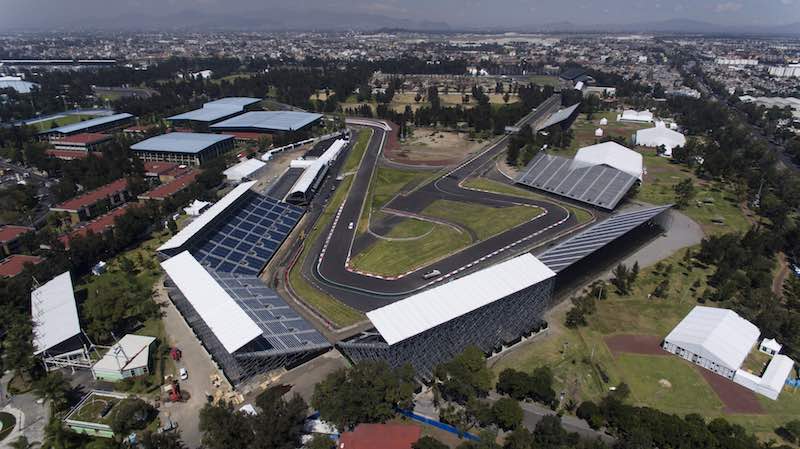 == Changelog ==
v1 Track created, about 0.6m too long, sportiness, elevation and camber all match the real track.
== Download ==
Autódromo Hermanos Rodríguez v1.zip (185.2 KB)