How does everyone feel about using 8 track players vs cassettes for this challenge? There's no standard cassette yet.
1985 Hanno Firma LX.
Japanese fun, outstanding reliability and clever engineering.
Now with a 2.6L H6 (Boxer) engine.
Gallery
1985 Marconi Garrote GTV
"Perché scegliere quando puoi avere entrambi?" (Why choose, when you can have both?)
The new Garrote GTV was made with just one objective in mind: to cover all the bases at a price everyone can afford. A 6-speaker 8-track, premium leather seats and a 4-speed automatic gearbox let you take the wheel in the same comfort as you watch TV in your home. Then, the 3.3L V8 and independent suspension at all four corners gives you all the performance you could ever need; in numbers, the Garrote GTV will do 0-60 in 8.6 seconds, the quarter mile in 16 and a half, and it will keep going up to 116 mph. Since fuel prices are one the rise, we have taken care of that too; equipped with the latest multi-point fuel injection, the Garrote will easily get 20 combined MPG even if you're the owner of a lead foot.
All of this comfort. All of this performance. At just $22200.
You didn't misread. Twenty. Two. Thousand. Dollars.
...so, what are you waiting for?
Marconi, automobili pregiate.
Close-ups:
---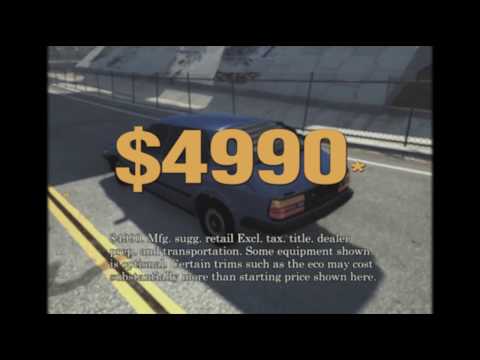 ---
The Maesima Celento was notable for being the first Maesima vehicle ever officially imported into the US market in 1982.
The face lifted UM10 Series II sedan, liftback and wagon models were released in April 1985, featuring a revised look with new front fascia, tail treatments in addition to mechanical changes including an automatic transmission option and further refinements to the ride and handling.
The range was revised and the new limited edition Trail-Trek edition was introduced along with and ECO low emissions model which features advanced lower emissions carburettored engine.
This update attempted to address many of the criticisms of the earlier model regarding its reliability, servicing costs and drive and handling characteristics. Earning the Celento rave reviews like these "…safe and inexpensive…" from Motor World Review, August 1982.
---
Celento 2.0L ECO Liftback 4MT: $7,204*
(* in 1985 value equal to 14,600.00 in 2010 Autiomation units)
Sincerely this is the most high level CSR in the last times
i see every car here and say "oh fuck this is too beautiful"
here's a 2 minute ad. because if i made it at midnight and i need to get to work early tomorrow. will revise if i have time and feel like it tomorrow
---
Grehet Horizon
---
Cruise to the Horizon. Leisurely. Confidently
---
All independent suspension
3.6L inline 6 cylinder power
GlidePower Power Steering Technology
24 valve efficiency
All Wheel Disc Brakes
1985 KADETT DASH
For 1985, Kadett is introducing the Dash compact sedan to the US market.
The Dash GL Turbo is equipped with an all-new Turbocharged 2.3 liter inline-5 engine giving the car superb fuel economy and a smooth ride. Power steering and a cassette player come as standard with the high-end GL model.
Engineering by @Ryan93
Designed by @CorsicaUnknown
Giving it a shot is always worth a try, right?
Don't worry - I like to live life on the edge

---
The future just soared by. Don't be left behind.
Why linger in the past when the future awaits you?
---
See the future for yourself at your nearest Satsumi dealership.
---
A S C E N D






lmao
man, and i thought mine was a bit too 90s. this is just a different type of futuristic
1985 Cascadia Garu GT-C
It's time to take a drive in the next generation of Cascadia sportscars! Using the cutting edge RCM Alu4 engine producing 130 hp, the Garu has all the power it needs to hold its own on American roads while still returning 22 MPG. The GT-C trim offers all the touring comfort you could want without sacrificing handling, and all for $23,300.
Well done! Futuristic, but still believable.
Introducing the Letto Aquila 68 Carro, a 4x4 wagon powered by our ALI6LE-26ST Engine that makes 140 lb-ft@3400 & 111hp@5800hp & mated to our Hydro-Turbo 521 3 speed transmission it is capable of 13.3L/100km (about 17.7 US MPG or 21.2 Imperial MPG). It can be yours for just $25300:

                                 Premium Everyday 
                              Sporty on the weekends
                                 Nagoya Osprey XS

Featuring for North America, a 2.5 liter Box 4, 5 speed overdrive transmission, and AM/FM cassette, all for AMU$19,900
1985 Seishido Eccelsa 2.0 GLS
($8.549 = AMU$17.500)
Sorry for the 13 minute overtime submission, my PC decided to straight up die 20 mins before the deadline and it literally takes forever to get it back up and running.
I wasn't aware there was another 80s CSR up untill yesterday, so i've had roughly 24 hours to put this car together. I just hope I didn't spend too much time on the Design in comparison to the. Since it's already overtime I'm not going to have a very put together ad at the moment, so I hope the car does the talking.
Introducing: The 1985 Vitesse Elysees 2.0 RX, The stylish premium compact car from France Fruinia Imported to Gasmea for the Consumers that want something European.
It has a 2.0 Liter Longitudinally Mounted Inline-4 Producing ~115 hp and a Very Reasonable Fuel Economy of 22 US MPG.
Can quotex build a car in a day? Yes, but he probably shouldn't