CSR 98 - She took the kids…
---
As always, it would be appreciated if you aren't sure about the rules around the CSR, that you follow the link to the general rules for this competition by clicking here
---
The story
Croydon, UK
March 2003
Sharon (full name Sharon Karen Ramsbottom), 36 years old. Recently divorced, strong single-mother of three beautiful children, likes to go on coffee dates and shopping trips to Bluewater, regrets ever marrying even though she ended up with the house and the kids. Who needs men?
Started off like a dating profile but certainly isn't. This is the story just weeks after the divorce settlement from Phil. The marriage lasted 10 years and brought Phoebe, Hayden and Tegan into the world, aged 9, 7 and 4 respectively. Sharon doesn't work and is now a single-mother, but since Phil worked high up in the company he worked for, there were substantial amounts of money flying about and Sharon ended up with a considerable lump of it.
She was also left with the "second" car. A dated 1994 Rover 214 that was completely on its last legs even though it was never even used that much. I suppose that is Rover for you. Sharon had had enough of turning up for girly dates and the battered old Rover would cough and splutter, and then the kids would complain it would smell of "old people and poo" each time they were picked up from school. And when friends wanted to come over for tea… FULL ORDEAL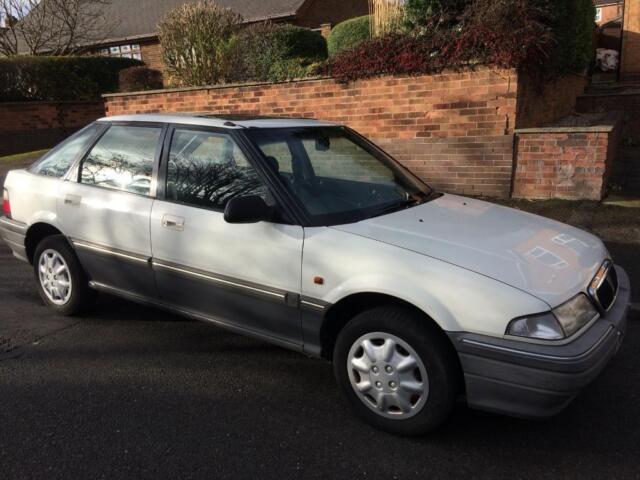 The old Rover, ready to be thrown into the bin and forgotten forever
Enough was enough, Sharon needed a new, more practical car. She needed a car for all her kids and the friends could get into. She needed something reliable and capable. She needed something that would fit loads of shopping in while she burns through the remaining amount of the divorce settlement. She needed it now.
---
Restrictions
Model year 2003 or older
Trim year must be 2003
Minimum 15 comfort
Higher than 0 sportiness (0.1 is acceptable)
Minimum 40 safety
Minimum 58 trim reliability
Minimum 7 seats (5 must be full seats)
95 RON unleaded fuel only
Catalytic converters obligatory
Must have at least ABS
Manual transmission only
Maximum trim emissions of 250
Maximum loudness of 32
Maximum engine ET of 95
Maximum car ET of 95
BUDGET MAXIMUM OF $12,500
Currently is complicated to see the price of the cars as it doesn't display in the market tab. To see it, go into the sandbox car selection menu and the price will display there.
Please use the open beta variant of the game for this round to ensure maximum compatibility
---
As always, the same naming system applies!
Car and engine model name: CSR 98 - "username"
Car trim: Brand, model and variant of car
Engine trim: Engine model/variant
---
Please pay very, VERY close attention to these regulations. You have only ONE opportunity to submit your vehicle correctly with the correct naming scheme. Failure to comply will lead to immediate disqualification and a place in the hall of shame. Please CHECK your entries before submitting and DO NOT rush your entry.
---
Other requirements/permissions
Advert for any submission must be posted on the thread
All mods from Workshop are permitted
Criteria/judgment
REALISTIC, ERA-CORRECT AND INTERESTING DESIGN. Sharon won't be settling for a boring look car (even if it is a boring class of car). Making the car realistic looking and era-correct are key to making sure your car doesn't end up straight in the bin.
DRIVABILITY. The more drivable the better as this means there is less likely to be a crash. It's important, not vital. Remember, automatics are NOT permitted as she gets confused and ends up using the brake pedal as a clutch every now and again.
COMFORT. Although a limit is in place, the higher the better. Again this is a factor but not vital.
SPORTINESS. Again, this is not vital, but Sharon will still want something that isn't going to be so boring she falls asleep at the wheel. And she really could do with some excitement in her life, the poor hag.
SIZE. The car needs to be big enough for 7 seats but not too big. Sharon will be having all sorts of panic attacks driving a great behemoth of a car down country lanes. Too big of a car will land you right in the bin.
RUNNING COSTS. Sharon is none the wiser when it comes to fuel costs and calculating fuel economy. She does, however, have a sense of what is good and what is bad. She can also work out when something is going to cost her less to run than something else. This is an important aspect, but not crucial.
RELIABILITY. There is nothing more inconvenient than having a car that breaks, it has to go back to the shop and spends a week there to be fixed. There's also nothing worse than a car rusting away. The Rover doing just that has made Sharon paranoid about this and has made reliability possibly the most important aspect in her purchase.
SPACE & PRACTICALITY. Another key aspect of the purchase. Although a smaller footprint would be preferred, the more space on offer the better. It means more shopping and happier children. But also think about clever practicality things when you design the car for bonus points.
EQUIPMENT. The more the better. That being said too much has very little value. Too little, you'll be in the bin.
PURCHASE PRICE. Every penny saved is always better. The car is just need to get from A to B, Bluewater shopping is essential and having more money for that is welcomed.
---
Submissions open as of Wednesday 17th April @ 19:00:00 CEST (GMT +2) subject to rules being OK
Deadline is Tuesday 23rd April @ 20:00:00 CEST (GMT +2) subject to no game-breaking changes
---
Good luck, and have fun! (and read the rules properly)