These are the CSR rules.
This is the previous round: CSR116 - Big Attitude, Small Appetite:
Round 117: Rumble in the Bronx
the following is a fan-written derivation of the TV Series The Get Down and does NOT have anything to do with the 1995 Jackie Chan film. This also has no relation to the canon of the plot of the series
New York City, 1978
The smoke hung heavy and thick in the air, choking the denizens of the Bronx in oppression and despair whilst the sun beat them down with the wrath of God. New York was burning, from a thousand fires lit by the fury of the people who, starving and disenfranchised, took to the streets to tear them to shreds with their own hands when they found their arms could not reach the ones who made them suffer.
Passion and fear swirled in a miasma through the alleyways and the shattered storefronts. While the old ones cowered behind shutters or flocked to the fiery salvation of Pastor Ramon Cruz, the youth took that fire and filled the clubs, the parking lots, the tunnels and the overpasses with ink, with verse, and with the sound of music. They fought battles, not with fists, knives and guns, but spitting venom, spraying pieces and murals right under the nose of the authorities, and cutting fresh moves. Disco versus Hip Hop. The Hustle versus Uprock. Reduced to nothing, the Bronx was ripe for change and a richness born anew.
In this turbulent time and place, did the legend of aspiring DJ Shaolin Fantastic, and his wordsmith Zeke of the Fantastic Four grow. But their fates tangled and crossed paths with the sinister underworld and a world of callous privilege. The lawless place of gangsters in the infamous Les Inferno, and the unlawful law in the form of uniforms, suits and spoilt brats. All this, presided over by the man around town, the boss, the father, Francisco 'Papa Fuerte' Cruz. There was no telling where the man, who reported directly to the Mayor, got his money from, but for those who had nothing, he was a beloved figure and a welcome sight, handing out ten dollar bills to every passer by crooning his words of encouragement. This half of the Bronx, this was his town.
So it was that Papa Fuerte, decked out in his finest leisure suit and tinted aviators, was sprawled in the passenger seat of his gorgeous green '71 Fleetwood Eldorado, flanked by his forever anonymous right and left hand men. A car with the presence to suit his stature, it held an air of majesty as it purred calmly along even in the street strewn with debris, bricks and burning refuse.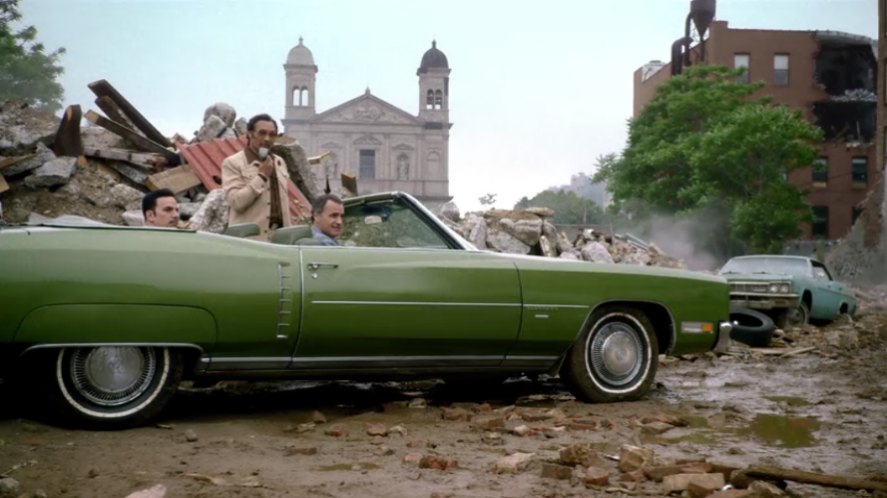 "These are hard times, hard times indeed", Papa Fuerte mused to himself. "But as soon as my ten million comes in, this whole place will be transformed into a beautiful home for my people." This was a common refrain, as his assistants well knew. Not a single day would go by, no matter whom he met, no matter how many card games he played with the police chief, that he wouldn't finish the day in his office by staring at the tabletop model of his redesigned community center and remodelled neighbourhood. It was a dream far away from his current reality, fuelled by the promise of a windfall that was always just around the corner.
Papa Fuerte was jerked from his reverie by the sight of five young black men pelting up the street as if their lives depended upon it. Actually, it was almost certain that their lives did depend on it. Such an occurrence meriting barely a single glance, Papa Fuerte nonetheless did a doubletake. The boy with the afro, his face may have been contorted with strain but he would know it anywhere. That was Zeke. His young charge rising up in the world. And also the boy who dared to date his darling baby girl with the voice of an angel… wait a minute, wasn't he supposed to be helping her record a track today? So if Zeke was here, running like his heels were on fire, then–
Papa Fuerte bolted upright in his seat. "Stop the car! Where's Mylene?"
The car screeched to a halt smack in the middle of the road, nose sinking to almost touch the road before the body sagged back to rest. His men turned to him with a blank stare, their mouths slightly agape. But before the silence even set in, it was shattered by a series of resounding pops.
"Gunfire! Get down!" A hand grabbed Papa Fuerte's head and shoved it under the dashboard, and not a moment too soon, for there was a crack and the windshield shattered. "Out! Out!" Papa Fuerte's henchmen came to life, scrambling out of the car and hauling him bodily from his seat as a fusillade hailed down upon them and everything, metal pinging as several bullets punched through the Fleetwood.
"Mylene!" Papa Fuerte cried, but two pairs of hands wrapped around him and dragged him up the sidewalk. He fought the hands off, but even more pops sounded and everything around them, windows, the street light, started shattering. Suddenly he was picked up and tossed into darkness, his men throwing him throw the broken window of the nearest store before following suit. "C'mon, we gotta run!" Everything after that was a panicked blur of heaving lungs, burning legs, but none so tortuous as not knowing if his darling girl was safe.
---
Some hours later
"I can't believe, the nerve they have, to shoot at me. ME!" Papa Fuerte spat, pacing up and down the floor of his office. "Tell me, Moach, what are your men doing to keep the streets under control, apart from sitting on their fucking asses!?"
Inspector Moach shuffled his shoes slightly sheepishly. "Well, uh, look Mister Cruz I'm so sorry that happened. Please rest assured that you weren't their target. We're doing our best to control the situation but there's a three-way between Fat Annie and the Colombians and the Savage Warlords lately and it's been getting out of hand…" he trailed off as his field of vision was suddenly filled with Papa Fuerte's furious visage.
"Getting out of hand is putting it pretty fucking lightly!" Papa Fuerte snarled. "It's just as well Mylene is safe or I would string you up faster than you dunk a donut. However you do it, get them in line and don't let them fuck up my town any more, you got that Moach?"
There was a palpable moment of tension. Inspector Moach opened his mouth to say something, but what do you say to a man who just got shot at by a gang? Especially when that man is the boss of the town? "Er, yes. You know we will Mister Cruz." And with that, Inspector Moach took that opportunity to break his gaze and stump out the door, trying his best to casually rearrange his cap.
Papa Fuerte dismissed his men, and turned out the lights, leaving him alone in the gloomy dark. Only then did he let his tension go, his shoulders sagging and his whole body deflating.
"I need a fucking drink", he muttered to nobody in particular, before swiping the nearest bottle on the counter, pouring himself a glass, seating himself in the recliner and downing it.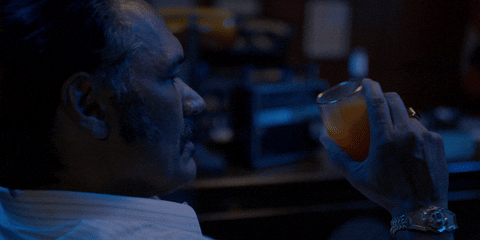 What a day. He contemplated whether he would need to have words with Zeke. The boys he ran with were mostly good kids, but the guy in the red leathers, that Shaolin guy, he was one shady motherfucker and Bad News with a Capital B. He wouldn't be able to forgive Zeke or himself for that matter if Mylene got caught up in all of that.
But the one remaining thing that bothered him was that his car, his beloved machine, was now riddled with a hundred holes and far beyond saving. It was his chariot, the very symbol of his success and his power and his seat of influence. Not this chair in his office from which he would cajole and dance around with the white men of the halls of politics. He was nothing if he could not be in the streets, among his people, for them to know he was there when others cared not.
"And I need a new car."
---
There you have it folks. Looks like El Jefe of the Bronx was in the wrong place at the wrong time. Though, as he would prefer to tell it, looks like some punks messed with the wrong guy. Either way, his Fleetwood is a goner and he needs a new ride to match his image. Suffice to say it's going to be preferably a USDM car between 1970-1978 that articulates Papa Fuerte's colourful personality and his largesse.
This is not an easy ask. As KmBlaine's guide to USDM cars explains, what made US cars US in this era also made them pretty bad lol. So this round, while still needing to optimise certain setups and metrics, is going to be predominantly about cultural competence and how well you can tap into the zeitgeist of the time, all on the backdrop of a remarkable turbulent era.
The other thing I will also add is that while the effect of the 1973 oil crisis was profound, it's not as if somebody flicked the switch on car sales overnight so you will NOT need to think about this too much unless you really want to…
So yeah, cars mostly like this:
https://www.autabuy.com/photos/43413925_481095565315_Original.jpg
---
Overall approach
As said this will be a round that respects historical accuracy. This does not mean that I am going to be a stickler for the appropriate bumper dimensions, round vs sealed square beam headlights etc. If anything I am not going to even be that strict on cars made after 1975 not having a (2-way) cat. This is not least because I'm not even completely sure I'm up to speed with those specifics myself!
But attention to historical detail at this time will be appreciated, and I assure you that due to the criteria for this round, the performance hit your car takes as a result will not be significant, AND there will be a mitigating "future planning" factor.
Therefore I strongly suggest that you start with KmBlaine's guide as linked above. That only covers the 60s, of course. Google real examples (or look at mine) for the rest for the styling.
Mandatory requirements (and things we specifically don't care about)
Model year 1970-1978. Trim year range the same and does not have to match the model year.
There is no restriction on the body you use as all you need to know is in the prompt. It should go without saying that if you use a body that is allowed but Papa Fuerte doesn't like it, you get binned.
There is no restriction on the chassis type and materials etc. but if you go too far astray from the realistic guide there will be raised eyebrows and if it doesn't make sense with the rest of the car it will hurt your chances.
There is no restriction on the engine family but I would strongly suggest that you don't use an i3, V12 or V16.
Petrol prices are going up. Papa Fuerte has money and does not care that much but gas stations are shutting down everywhere so it may be a little harder to find 98RON even right here in NYC so 92 is the safest bet. If your car is 1975 or later you are encouraged to switch to 91RON and use a cat, but I won't enforce this because AFAIK it wasn't enforced until later.
If your engine knocks or suffers valve float or internal strain it will be insta- ed.
Drive type is open except no 4x4 because we're not after a rock crawler.
Tyres was a trickier thing for me to figure out. For simplicity's sake, use Radials. No Chunky Offroad or Semi Slicks.
Most cars of this era I expect to have horrendous brake fade. Don't feel compelled to use discs to remedy this, though I understand this will hurt drivability. Your pad type must not exceed 50.
No offroad skid trays.
Needs at least 4 FULL seats but 5 is strongly preferred.
Does an American care about safety? The fact it's probably going to be a fucking barge is all the safety you need lol. If you're sending in an alien invader though that's another story.
Okay so the judging will be in stages.
Stage 1: Presence
This means the immediate impression Papa Fuerte has when he first sees the car from a distance, then sees it up close and walks around it. Looks count for a lot: does this articulate the brashness and bombast of an American looking to revive the glory of the city? Or does it vibe with the song and dance, with the funk and the verve of the cultural explosion? Or does it look to a new future and paint our strong dad as a visionary leader?
If it's big that is good. By big I mean wheelbase approaching or exceeding 3m. If it's smaller (like those weird Japanese and Euro imports after the fuel crisis hit) then well, it's gonna have to punch above its weight or make a strong case for a superior vision.
Be aware that while his previous car was a convertible and this is important for his public visibility, most of the good bodies for this round do not have convertible variants. I will not penalise you for not using a convertible, I will just assume that it is possible to delete the roof.
Stage 2: Experience
Papa Fuerte now opens the door and seats himself in the car. What are the seats like? Can he listen to Mylene's recordings on the go? Is there a real heft that gives him a sense of power and security? The engine starts and he goes for a test drive. He does not expect to drive fast, as if you can do that in the Bronx anyway. Even if gangsters were chasing him (they'd better not) you can't drive fast. That's not what this car is for. This car needs to be comfortable and smooth.
Stage 3: Technicalities
This is a tricky round because you get bonus points for authenticity but as is well known what is authentic is also technically inferior. To help you out here are some benchmark stats that you may aim for. How you choose to exceed or fall short of which stat is up to you.
Drivability: everything right hurts this stat. If it's around 30 that's probably fine.
Sportiness: no comment except to say my GG gland hurts
Comfort: assume that it should be over 40
Prestige: high is good
Safety: as mentioned the main safety from this car is gonna be the fact it probably weighs over 2 metric tons
Practicality: seeing as it probably has 5 seats it should be at least 35
Fuel economy: ehhhhhh. YMMV but expect figures between about 9 and 18 US MPG. Higher is always a bit better.
Reliability: this is a tricky one to balance because fancy stuff breaks, but if the car breaks down that's also not a good look. Try to make it at least 50.
The overall cost. Papa Fuerte has money, yes, but it goes here there and everywhere. This was an unexpected setback so he can't just blow the bank right now. Aim for 27k approximate cost or less. I won't bin you if it's more but it depends on what else is available.
TL;DR the weightings
VERY IMPORTANT





design + presence (including footprint)
comfort
IMPORTANT





prestige
not blowing the budget
drivability
reliability
WORTH CONSIDERING





fuel economy
practicality
NOT THAT IMPORTANT





JUST IGNORE THIS





sportiness ow my GG gland
Submission Regulations
Be very careful with these. Failure to adhere to the naming system and its exact syntax will likely result in your being binned or my missing your entry, which is one and the same. Pay attention to where the spaces are as this can completely alter the order in which entries appear.
Model: CSR-117 ##YOUR USERNAME##
Trim: Brand Model Trim of car
Family: CSR-117 ##YOUR USERNAME##
Variant: name of engine (optional)
Send the .car file to my FORUM inbox. I won't be taking Discord DMs because it's impossible to keep track.
Deadline
Now I happen to be away next weekend so I'm going to be a touch slow closing entries and processing any last-minute entries. So the deadline is:
23:59.59 Monday 13th January (AEST +1)
Have at it!