Hey guys!
I just finished off my massive 39 episode Let's Play series and now it is time for something new, something a little bit more challenging, something more strong-themed, compact, and… crazy.
Let me introduce you to an open challenge that will require balls of steel, the patience of an Early Access buyer, and the Automation skills that balance the edge between ingenuity and insanity.
Well, not quite, there are three different difficulties so that more than a handful of people can play along.

This is a challenge for everyone, but especially those who usually make cray-cray hyper cars in sandbox and then call the game easy. In this one there will be many difficult compromises that need to be made and no one even cares about your precious track times.
The Challenge
The background story is simple: you continue the legacy of the Düsenberg family (aka. Duesenberg), building crazy fast cars and only crazy fast cars. What would have happened if they did not go under and continued to produce the fastest road cars in the world? That is for you to find out and NOT go bankrupt in the process.
Challenge Announcement Video & My Campaign Setup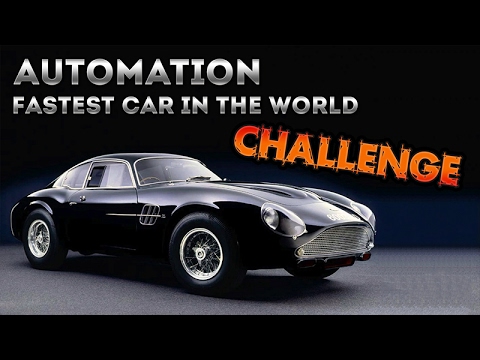 Here are the rules for the challenge:
I have extrapolated where the Düsenberg cars would have been if they had maintained their advantage over the competition in the decades to come, which is what YOU (and I) are going to recreate. The entire challenge comprises a play-through of the Lite Campaign starting in Fruinia with making only eight models during the entire campaign. The design years are indicated above.
The catch is that these models each need to have at least one trim that beats the Record Target Speed, for example 294 km/h for your second car you design in 1955. You are allowed to make other trims as part of that model too. Those are allowed to be less insane and probably will sell much better. The catch with those is that they still need to be at least as fast as the fastest car in the world during that decade, as indicated by the Trim Minimum Speed figures.
The problem for many will not be to reach the top speeds, but rather to do so while making competitive cars that hold the company afloat!
Challenge Timing & YouTube Schedule
My own attempt at this challenge will be on KillrobPlays where you find a new video in the series every third day starting on the 21. Feb 2017 at 05:00 AM New Zealand time, which translates to the 20. Feb 2017 at 17:00 CET or 11 AM in New York, so I'll give you the -1 day times, as those are relevant to most of you:
16. Feb 2017, Episode 0: The Announcement Video & My Campaign Setup
20. Feb 2017, Episode 1: 1946 Design Year, Min: 214 km/h, Target to Beat: 258 km/h
23. Feb 2017, Episode 2: 1955 Design Year, Min: 246 km/h, Target to Beat: 294 km/h
26. Feb 2017, Episode 3: 1964 Design Year, Min: 280 km/h, Target to Beat: 295 km/h
1. Mar 2017, Episode 4: 1975 Design Year, Min: 281 km/h, Target to Beat: 325 km/h
4. Mar 2017, Episode 5: 1984 Design Year, Min: 325 km/h, Target to Beat: 386 km/h
7. Mar 2017, Episode 6: 1992 Design Year, Min: 386 km/h, Target to Beat: 414 km/h
10. Mar 2017, Episode 7: 2002 Design Year, Min: 414 km/h, Target to Beat: 431 km/h
13. Mar 2017, Episode 8: 2010 Design Year, Min: 431 km/h, Target to Beat: 450 km/h
Challenge Interaction
It is an informal challenge, there is no judging of entries or direct competition apart from loosely comparing high scores, pain, and suffering at the end. The main goal is to share the struggle and the story of your high speed run!
Build the next car before the episode goes live on my channel, i.e. build the first one before 20. Feb 2017 and hit the car sign-off button. Then share here in this thread what you've created and how your company is doing (financials & sales numbers) for everyone to see after my episode went live. Don't forget which difficulty you chose and make a screenshot of your campaign setup screen! After sharing, you get to building the next car, hit sign-off and continue the cycle.
I encourage you to make your own build videos for this challenge and share them with the community.
Final Words
Can you bring the Düsenberg legacy back to life? Show us how you make the fastest cars in the world and thrived in this challenge. I hope you'll enjoy this slightly odd challenge.

If you have questions about the rules or procedure, feel free to ask below!
Cheers guys!
/Killrob
Challenge Participant Videos on YouTube
@Killrob's dev approach to the challenge (Insane Difficulty) [Score: 64687]
Episode 0, Episode 1, Episode 2, Episode 3, Episode 4, Episode 5, Episode 6, Episode 7, Episode 8
@Der_Bayer's approach to victory: I6 supercars! (Insane Difficulty) [Score: 28066]
Episode 0, Episode 1, Episode 2, Episode 3, Episode 4, Episode 5, Episode 6, Episode 7, Episode 8
@Tycondero 's playthrough with Hollandia (Insane Difficulty)
Episode 0, Episode 1, Episode 2, Episode 3, Episode 4, Episode 5
@koolkei's two attempts at … pain & greatness?! (Insane Difficulty) [Score: 17259]
Episode 1, Episode 2, Episode 3, Episode 4
Episode 1, Episode 2, Episode 3, Episode 4, Episode 5, Episode 6, Episode 7, Episode 8
@Weasel's German language playthrough of the challenge (Insane Difficulty) [Score: 75308]
Episode 1, Episode 2, Episode 3, Episode 4, Episode 5, Episode 6, Episode 7, Episode 8
@Sillyworld's series for the challenge (Insane Difficulty)
Episode 1, Episode 2, Episode 3, Episode 4
@Steel is joining in but a lil more hardcore… I4s only on (Insane Difficulty)
Episode 1, Episode 2, Episode 3, Episode 4
@NoahC is also giving it a shot, looking pretty rough already! (Insane Difficulty 2.35)
Episode 1, Episode 2, Episode 3
@nogard is joining in the fun as well (Hard Difficulty)
Episode 1, Episode 2, Episode 3, Episode 4, Episode 5
@pHanta comes late to the party but has a whole lot of videos lined up already [Score: 42464]
Playlist, No Commentary, Bonus Track Video